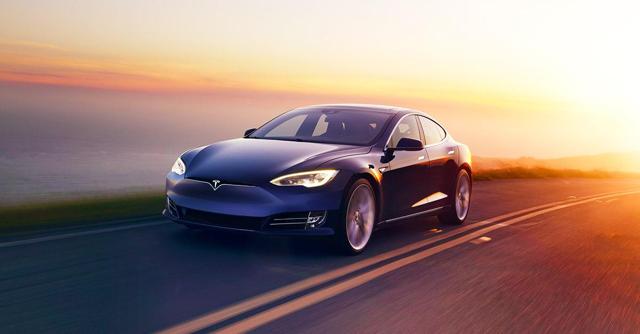 Tesla, Inc. (NASDAQ:TSLA) has achieved extraordinary results in its short existence, it has drastically disrupted the automobile industry, and has introduced some of the most revolutionary products ever, yet its viability and place in history as a sustainable company are constantly being questioned and challenged by skeptics, investors, and analysts alike.
There is No Reason to Doubt Tesla's Production Capabilities
Tesla has had several minor issues in the past with bringing enough cars to market to meet demand due to a shortage in lithium ion batteries. However, Tesla chose to alleviate this problem by producing its own batteries at its new giant facility designated to create an enormous amount of lithium ion batteries. This huge production facility will produce enough batteries to meet the demand for up to 1 million Tesla vehicles in 2020.
Tesla's aim is to produce about 500,000 cars in 2018 and it plans to ramp up production to 1 million vehicles in 2020. The company's Gigafactory facility will provide Tesla with all the necessary batteries to achieve this goal.
Naturally, there are other elements not related to batteries that could hold up production, after all, anything can happen. However, past holdups have been predominantly due to battery shortages and the misses when they did occur, were relatively minor. Therefore, investors have no justifiable reason to doubt Tesla's 2018 projections as everything substantial Elon Musk promised in the past has come to fruition.
Analyzing the Numbers
Prices range from $68,000 to around $150,000 for Tesla's Model S and Model X depending on performance and options the car will offer. However, the average selling price concerning both vehicles was right around $100,000 in 2016. The Model 3 is expected to start at $35,000, though, it is fair to estimate that the average selling price per model will be around $45,000 once a range of options are included.
Using these metrics, and Tesla's 83,922 vehicle production in 2016 let's examine what production and sales figures are likely to look like once manufacturing of the Model 3 goes online. Let us consider that Tesla will be able to bring 500,000 cars to market in 2018 as promised, and at a growth rate of 30% annually through 2020.
The 30% growth rate is consistent with past production and is actually modest in relation to future company forecasts. 2015 year over year (YOY) production increased by 30.8%, 2016 YOY manufacturing increased by 40%, and 2017 YOY production is projected to increase by around 25% (average consensus).
In addition, we are implementing the company's 500,000 car production estimates for 2018, of which 142,000 are projected to be Model S and Model X vehicles and the remaining 358,000 will be the Model 3. Furthermore, we are using a similar 30% growth rate for Model 3 vehicles and this is how we arrive at our figure of 845,000 total vehicles production in 2020. It is important to mention that these forecasts are modest relative to the company's own projections which call for 1 million total vehicles in 2020.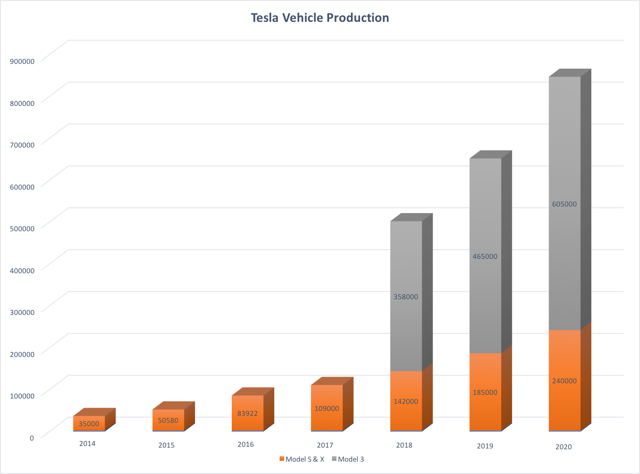 Revenue Figures Used: Model S/X $100,000, Model 3 $45,000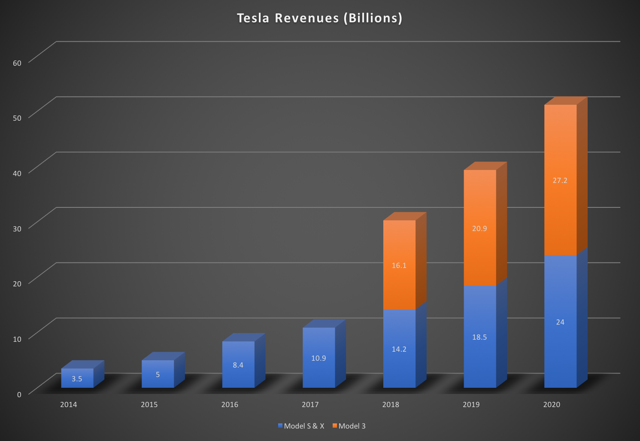 No Reason to Doubt Demand
Model 3 demand is extremely strong and is clearly supported by the number of deposits the company had as of September 2016 (approximately 500,000), enough to reserve 500,000 Model 3 vehicles.
For those who are still skeptical regarding Model 3 demand let's examine a few facts. Whether people like it or not internal combustion engines are the proverbial past and electric Tesla technology is the future. It is clean, cheap, has extraordinary capabilities, and soon many people will switch over to this newer and better technology. CD players gave way to iPods, Blockbuster gave way to Netflix, brick and mortar retailers are giving way to Amazon and other online platforms, and ultimately internal combustion engines will give way to newer, better, more efficient EV technologies on a mass scale.
Tesla's technology is years ahead of the competition. Furthermore, the company's technology keeps advancing and evolving at a rapid pace, with 2020 models likely to be able to drive for over 700 miles on a single charge.
Yes, Tesla is a Technology Company & Should be Valued as One
Tesla is so much more than a traditional automobile company, in fact, Tesla, at its core, is a technology company that happens to produce cars. Moreover, Tesla produces superior cars in just about all aspects. For example, the Model S P100D is the fastest accelerating production car on the market and can reach 60 MPH in 2.28 seconds, faster than a $2 million Bugatti. Yet it seats 5 comfortably, can seat 2 additional kids, has an enormous amount of trunk space, is the safest car ever tested and starts at a fraction of the price of a performance luxury vehicle ($134,500).
With the Model S and Model X, Tesla offers affluent consumers a product that is years beyond anything the competition has to offer. There are no other 100% EV vehicles on the market that offer anything close to Tesla in terms of a combination of performance, capability and practicality.
Another, key element is the infrastructure network Tesla is in the process of building for itself. It is amazing, the supercharger network, as well as the Gigafactory which is essentially Tesla's very own supply of limitless batteries, the competetive advantages Tesla has in the EV market are enormous.
Tesla's steady 30% production growth in recent years is taking market share from other companies in the luxury car segment and the Model 3 will do the same, only in the mass market. This is precisely why Tesla's growth potential is staggering in the auto industry. To put things in perspective, total worldwide car sales in 2016 were 76.86 million, companies such as Volkswagen (OTCPK:VLKAF), GM (NYSE:GM), Toyota (NYSE:TM) and others accounted for more than 10% of the market each, with several automakers selling more than 10 million units in the year. In 2020, Tesla's projected 845,000 car production will only account for approximately 1% of the world's car production.
There is a Whole Lot of Available Market Share for Tesla to Capture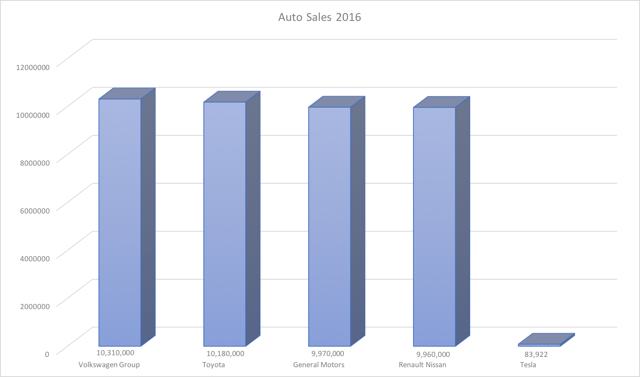 With anticipated production of 845,000 total vehicles and estimated automobile revenues of $51.2 billion in 2020 Tesla will be worth much more than $45 billion, which was its market cap as of 03/29/2017. It is difficult to accurately gage what Tesla's profits will be in 2020 once the company begins to take advantage of its economies of scale capabilities. However, it is possible to estimate Tesla's 2020 valuation based on its projected sales and by comparing valuations concerning other large, expanding technology companies.
2020 Valuation
Tesla currently trades at around 6 times sales, this is typical for a growing technology company, as Google (NASDAQ:GOOG), Netflix (NASDAQ:NFLX), and others trade at similar multiples. However, the average company in the S&P (NYSEARCA:SPY) trades at slightly over 2 times sales and other more mature technology companies such as Apple (NASDAQ:AAPL), and Amazon (NASDAQ:AMZN) trade at around 3 times sales.
Tesla's current market cap is $45 billion and the stock is at $277 a share. If we put a modest 3x sales valuation on Tesla in 2020 (half of what it is being valued at today), $51.2 Billion in sales will translate into a market cap of $153.6 Billion and will provide a stock price of $945.50 a share. This is a fair price for Tesla shares in 2020, when the company will have a mere 1% of the automobile market.
Tesla, The Trillion Dollar Company?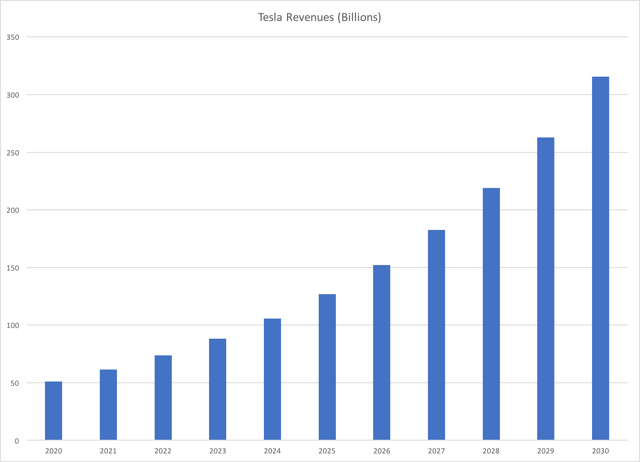 In order not to appear too optimistic we are scaling back Tesla's growth rate for 2020 – 2030 and are only using 20% YOY growth rate projections. Tesla will likely continue to capture market share, and by 2030 should attain a leading position in the market with around 7 million vehicles and revenues of around $315 billion, This is still well shy of the 10 plus million vehicles that GM, Toyota, and Volkswagen bring to market today. If we value Tesla similar to what Apple, or Amazon is valued at today, 3.17 times sales would provide a valuation of $1 Trillion and a stock price of about $6,155 per share.
2020 Price Target
This analysis indicates that a $1,000 price target for Tesla's stock 2020 – 2021 is not only extremely fair, but appears highly attainable.
Disclosure: I/we have no positions in any stocks mentioned, and no plans to initiate any positions within the next 72 hours.
I wrote this article myself, and it expresses my own opinions. I am not receiving compensation for it (other than from Seeking Alpha). I have no business relationship with any company whose stock is mentioned in this article.
Editor's Note: This article discusses one or more securities that do not trade on a major U.S. exchange. Please be aware of the risks associated with these stocks.
About this article:ExpandAuthor payment: $35 + $0.01/page view. Authors of PRO articles receive a minimum guaranteed payment of $150-500. Become a contributor »Tagged: Investing Ideas, Long Ideas, Consumer Goods, Auto Manufacturers – MajorProblem with this article? Please tell us. Disagree with this article? Submit your own.