Industrial powerhouse General Electric (GE) needs a shake up, following a sharp and drawn-out decrease in sales that has endured since the 2008 recession and a dwindling stock. For this reason, I believe positive share price reaction observed after the announcement of the merger between GE's transportation division and Wabtec (WAB) is understandable. Spinning off non-core businesses might have the benefit of turning GE into a more transparent and focused company, while easing the "conglomerate discount" that I believe caps the stock's upside potential.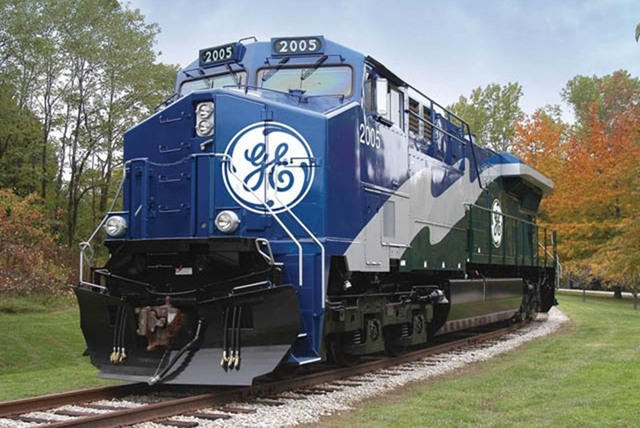 Credit: ShowTimes
But the deal is only a small piece in a large and complex puzzle that is GE's turnaround efforts. As evidenced in the company's most recent earnings report, the transportation division, accounting for only 3% of consolidated sales in 1Q18, has performed very well as of late. Even if segment revenues were down YOY in the most recent period, orders grew at a healthy 46% pace while op margin expanded substantially by more than five percentage points. Of all major divisions within GE's portfolio, transportation is one of the few that has concerned me little.
In order to climb out of the gutter, GE needs to find a solution (or a clear path towards one) for its much more troublesome Power and Capital divisions instead. And in that regard, the company still seems far from getting back on track, in my opinion.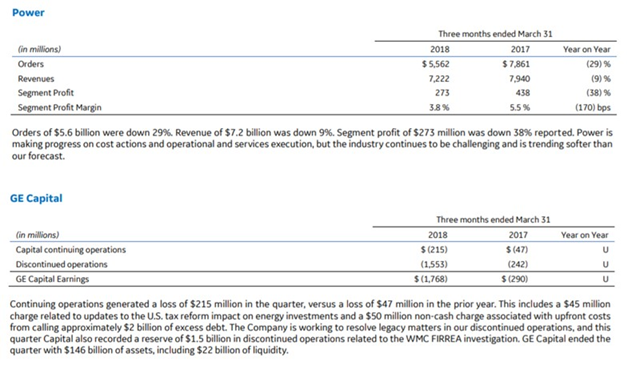 Source: Montage using company's earnings press release
Take the most recent quarter once again. As the tables above illustrate, there seems to be little hopes for either business to recover in the foreseeable future. The power industry "continues to be challenging and is trending softer than forecast," with the market for heavy duty gas power turbines expected to remain weak through 2020 (see chart below).
Meanwhile, GE Capital's legacy mortgage and insurance businesses continue to leave a trail of destruction, having pushed segment losses down into the billions in 1Q18. I doubt that much has changed between the most recent earnings day and now, given CEO John Flannery's discouraging power unit outlook and lack of conviction about next year's dividend payments communicated just recently.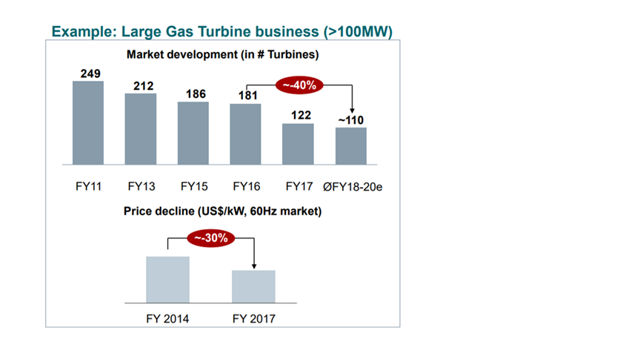 Source: Siemens presentation
For the reasons above, I continue to think that GE is a highly speculative stock to own at current levels. From a technical perspective, it is possible that shares may have found a bottom at or near $13 which, if proven accurate, would point at downside risk of only about 10%. But as I have argued not long ago, GE continues to deliver bad news in sequence when the investment community least expects it to, which seems to have caused a credibility crisis that pushes the stock price down sharply at the first sign of trouble.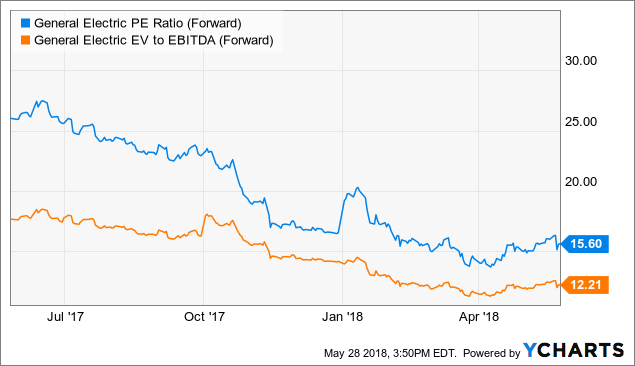 GE PE Ratio (Forward) data by YCharts
Even though valuations have de-risked significantly over the past year (see chart above), I believe multiples matter little to the stock at this point. Momentum will likely be born of a more upbeat narrative around the most troubled of GE's businesses. Once this happens, shares are likely to recover very quickly. But in my opinion, missing the first jolt (if or when it happens) is a small price for more prudent investors to pay.
For now and until the first undisputed signs of improvement in fundamentals, I choose to keep a safe distance from this stock.
Note from the author: if you have enjoyed this article and would like to receive real-time alerts on future ones, please follow DM Martins Research. To do so, scroll up to the top of this screen and click on the orange "Follow" button next to the header, making sure that the "Get E-mail Alerts" box remains checked. Thanks for reading.
Disclosure: I/we have no positions in any stocks mentioned, and no plans to initiate any positions within the next 72 hours.
I wrote this article myself, and it expresses my own opinions. I am not receiving compensation for it (other than from Seeking Alpha). I have no business relationship with any company whose stock is mentioned in this article.