Coherent (COHR), a maker of laser and laser-based systems, has a very diversified series of end markets, only one of which is OLED screens. It is therefore somewhat surprising that the shares have been taken to the cleaners, down 20% in short order, on the basis of disappointing sales of the new iPhone X and some possible delay in Samsung's (OTC:SSNLF) fab plans for its own OLED production.
We could point out that this is almost like a yearly routine for Apple (NASDAQ:AAPL), as production often declines after the holiday season and introduction of new models, here is MarketWatch:
Apple investors should be familiar with this show. iPhone shipments traditionally peak during the holiday quarter, right after a new model is announced. Then they taper off in the new year as shoppers opt for a greater mix of older modelsor figure they can wait around until the next latest and greatest version comes out in the fall.
But in any case, the growth of the company has been substantial: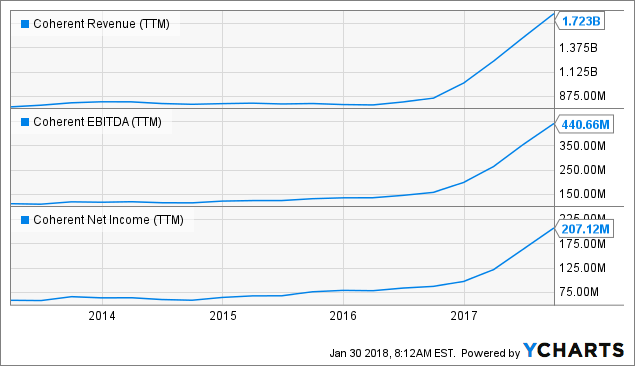 This of course has received a big boost from the acquisition of Rofin, although that has come at the expense of some margin contraction.
Given the large share gains, sell-offs like these 20% drops are not uncommon; so investors should not really panic as long as the fundamental story is still in place. We think that the longer-term prospects for OLED haven't really changed. Here is SA contributor Robert Castellano:
The display market is transitioning from LCDs to OLEDs for smartphones, from amorphous silicon backplanes to LTPS backplanes, and to 10.5G plants for both LCDs and OLEDs. Capital expenditures are increasing on all fronts in the display market, representing a tremendous potential for equipment suppliers.
In the U.S., two display equipment suppliers stand out – AMAT and COHR. AMAT is losing traction in the LTPS backplane for displays for smartphones as COHRs laser anneal technology offers a better alternative to AMATs LTPS deposition process. According to Table 1, in Q2 2017, COHRs QoQ revenue grew 46.9% compared to AMATs 4.9%.
Coherent's ELA deposition technology for LTPS backplane isn't used in OLED TVs, where LG (OTC:LGEAF) uses metal oxide backpanes. There was some worry by analysts whether that technology could migrate to the smartphone panel market which CEO Ambroseo could not dispel entirely, but he argued that it has not been demonstrated suitable for handsets or battery-powered devices at this point.
On the other hand, it isn't likely either that Coherent will be able to penetrate the OLED TV market with its ELA LTPS backpane technology anytime soon. Here is how the 10K described it:
Our excimer lasers provide a unique solution for LTPS because they are the only industrial-grade excimer lasers optimized for this application. The current state-of-the-art product for this application is our excimer Vyper laser and LineBeam systems. These systems deliver power ranges of 1200W to 3600W, depending on the system, enabling a critical manufacturing process step with Generation 4, 5, 5.5 and 6 substrates. These systems are integral to the manufacturing process on all leading LTPS-based smart phone displays, with the highest commercially available pixel densities of greater than 300 pixels per inch (ppi), with the current trends going to even higher ppi (>500 ppi) for high end smart phones, and hold the potential for deployment in tablet, laptop and OLED TV displays. Excimer based LTPS is also enabling a new generation of flexible OLED displays which are currently undergoing rapid growth as their adoption into smart phones accelerates.
OLED is invading other sectors like automotive. Management mentioned that there are 18 models coming with OLED dashboard screens (and OLED lightening, which is less interesting for it) which could give the company an additional market.
Since we're talking about capital equipment here, some level of cyclicality is almost inevitable even with the backdrop of a steady increase in demand.
From Robert Castellano's articles, who keeps his fingers on the pulse here, we understand that the OLED market is going through a cyclical downturn after large capacity increases recently, but this isn't expected to last more than a few quarters. We reproduce the figure he used in his August 23 article: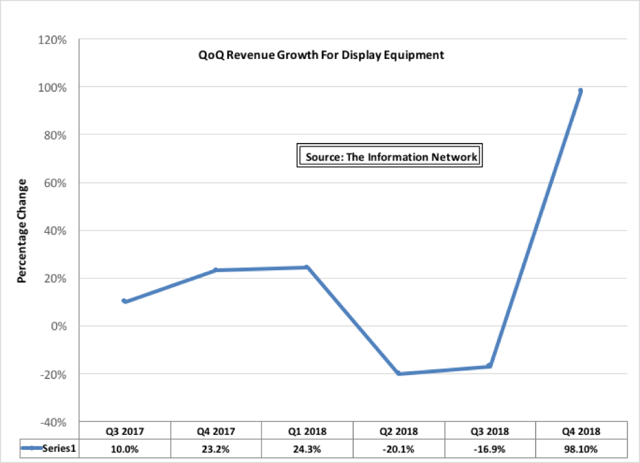 Somebody should have told management about this because the guidance is still quite optimistic. While the company only gives guidance one quarter out (and in the graph above you see that Q1 2018 is still supposed to be solid in the overall market), it still goes ahead with its planned capacity expansion for 2019.
Here is how the revenue mix developed (from the 10K):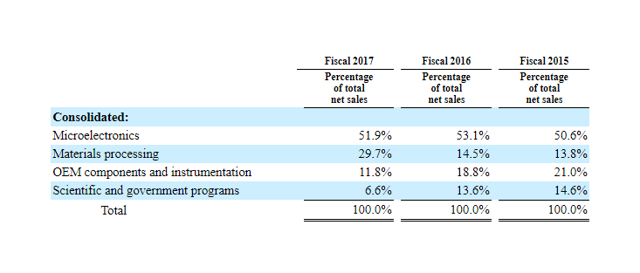 OLED is only a part of where Coherent sells. It doesn't single out OLED in its filings (it is put together with advanced packaging and some other applications into Microelectronics) but we went through the Q4CC and the markets the company services is actually pretty wide as you can see from a couple of slides from the Q3CC: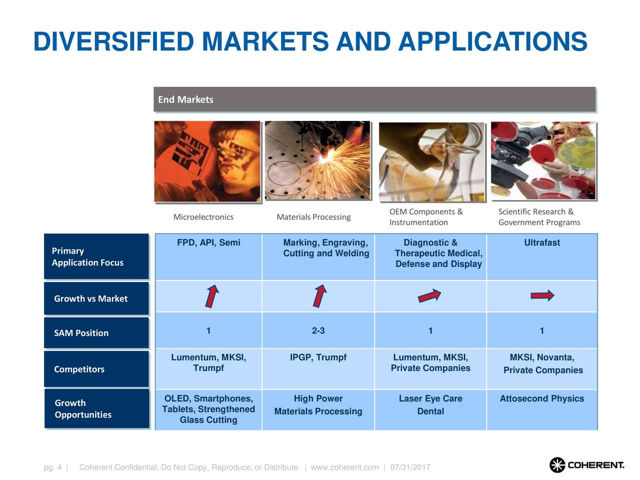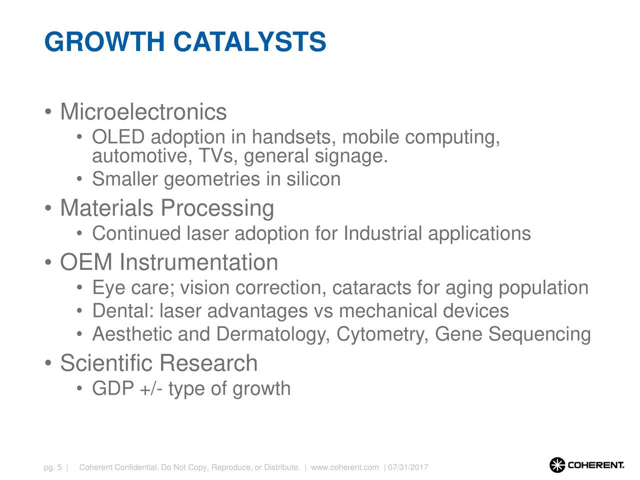 This is how it was put in the 10K:
Key laser applications include: semiconductor inspection; manufacturing of advanced printed circuit boards ("PCBs"); flat panel display manufacturing; solar cell production; medical and bio-instrumentation; materials processing; metal cutting and welding; industrial process and quality control; marking; imaging and printing; graphic arts and display; and research and development. For example, ultraviolet (UV) lasers are enabling the continuous move towards miniaturization, which drives innovation and growth in many markets. In addition, the advent of industrial grade ultrafast lasers continues to open up new applications for laser processing.
For those that still feel nervous, one should realize there is quite a bit of backlog, especially in panels (from the Q4CC):
Total backlog was approximately $1.3 billion at the end of fiscal Q4 2017. The shippable backlog, defined as shippable within the next 12 months, is $1.04 billion. This includes $614 million or approximately 59% of shippable backlog related to flat panel display applications.
So it seems eminently reasonable with this kind of backlog that the company can smooth out a few rough quarters in OLED.
Guidance
Here is management during the Q4CC:
Revenue for fiscal Q1 is expected to be in the range of $460 million to $480 million. This range reflects the expected seasonality of the legacy Rofin business, partially mitigated by the growth in other businesses. We expect fiscal Q1 non-GAAP gross margin to be in the range of 47% to 50%. Non-GAAP gross margin excludes intangibles amortization of approximately $12.2 million. And stock compensation cost is estimated at 900k. Non-GAAP operating margin for fiscal Q1 is expected to be in the range of 27% to 30%. This excludes intangibles amortization estimated at a total of $14.8 million and stock compensation expense of a total of approximately $7.1 million.
This is a bit down from Q4 in which sales reached $490.3M, an increase of $26M, 6% higher sequentially and 97% year-over-year. But Q1 is seasonally weak so this isn't something to worry about.
Margins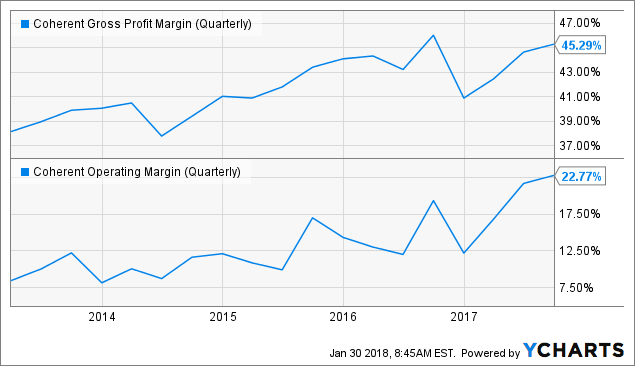 There has been a good upward movement in margins, especially the company has enjoyed a significant amount of operational leverage. Margins have been dented a bit from the acquisition but most of the roughly $3M in synergies are expected to materialize in the second half of the year.
Cash flow and balance sheet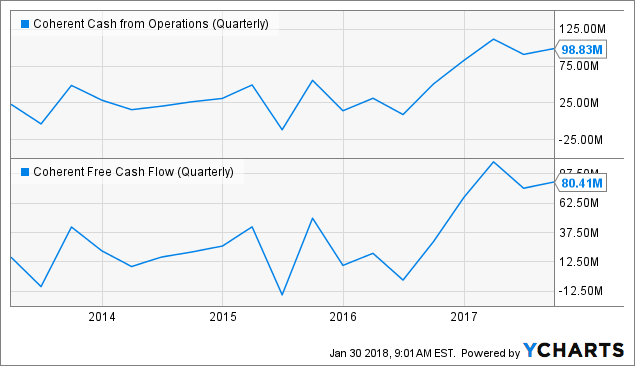 The company is producing healthy amounts of cash, with which it is actually deleveraging. The company took out a 670M loan to finance part of the Rofin-Sinar transaction over the last 3 quarters but has already been making voluntary prepayments of 30M, 45M and in Q4, 75M, so 520M remains.
Despite these paybacks, the company had $476M in nonrestricted cash, cash equivalents and short-term investments at the end of fiscal Q4, an increase of approximately $3M.
Management also argued that it will keep on doing this, which makes the preferential repatriation tax on foreign-held cash less interesting for the company. The upside of this is that the company won't have to make a charge because of repatriation either, as other companies have done.
However, given that management expects the non-GAAP tax rate for fiscal Q1 to be in the range of 30% to 32%, the company looks to benefit substantially from the reduction in the corporate tax rate.
The number of outstanding shares hasn't really changed all that much: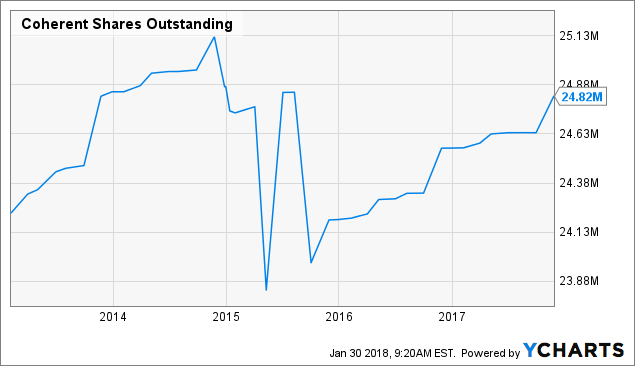 Valuation
There has been a notable expansion in valuation multiples across the board, even if some of that has been given back: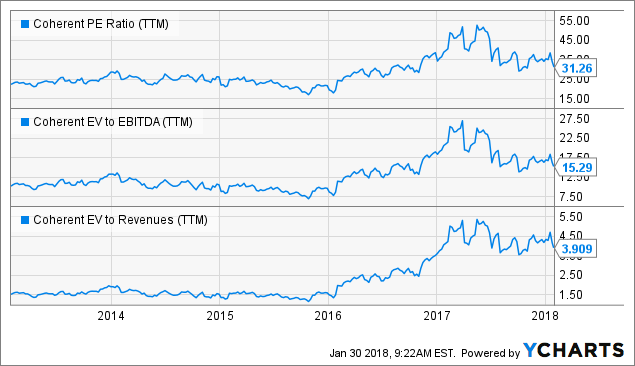 Analysts on average expect EPS of $15.38 this year rising to $18.31 in 2019, which gives the shares a multiple of 17 this year and 14 for 2019. We think that is still pretty reasonable for this company.
Verdict
Given its diversified markets and some cyclicality in OLED panels, sell-offs like the one we're experiencing offer opportunities for those that can look a little further ahead.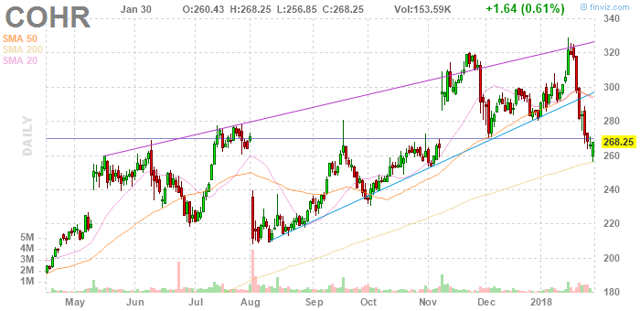 For now, the shares seem to have bounced right off their 200-day moving average. We see little reason for a further decline but this also depends on the general markets, of course.
Disclosure: I/we have no positions in any stocks mentioned, but may initiate a long position in COHR over the next 72 hours.
I wrote this article myself, and it expresses my own opinions. I am not receiving compensation for it (other than from Seeking Alpha). I have no business relationship with any company whose stock is mentioned in this article.
About this article:ExpandAuthor payment: Seeking Alpha pays for exclusive articles. Payment calculations are based on a combination of coverage area, popularity and quality.Tagged: Investing Ideas, Long Ideas, Technology, Scientific & Technical InstrumentsWant to share your opinion on this article? Add a comment.Disagree with this article? Submit your own.To report a factual error in this article, click here