By Yule Luo and Lingjie Wang
Canadian Solar (NASDAQ: CSIQ) is a leading solar energy provider that manufactures decentralized and off-grid solar applications, with business subsidiaries in over 24 countries. Its manufacturing facilities are mainly located in Canada and China. Its sales revenue was $2.9 billion in 2016.
Investment Thesis
Canadian Solar is one of the largest solar companies in the world. Additionally, the solar industry has experienced some changes, which means the existing companies have reasonable cost structures and decent market share. In 2015, China began supply-end reform, aiming to cut the solar glut caused by blind expansion from 2004 to 2007. Many small solar factories have been shut down or merged with the bigger ones. With this reform, supply and demand will strike a balance, and we believe that will support the rising price of solar power production.
The 13th Five-Year Plan in China stated that the Chinese government would support the innovation of the solar industry to further cut operating costs and increase efficiency. This move shows that China has put more emphasis on solar power, which it hopes to use instead of traditional power to control pollution. According to the statistics and forecast from the China Solar Power Committee, the average annual growth rate of demand for solar power will increase by 12.5%. Canadian Solar is in an industry with more resources allocated to it now. The company will enjoy this policy and have a promising future.
Industry Catalysts
After a disappointing 2016 fiscal-year performance, Canadian Solar is now likely witnessing a strong comeback in 2017 — despite the first-quarter loss. CEO Dr. Shawn Qu commented on the loss as mainly caused by sharply decreasing prices in solar energy parts and the tariff adjustments charged by the U.S. He is confident about consistent and stable growth in 2017.
Solar Industry
Solar energy, compared to other new forms of energy, has an important competitive advantage. Energy can be generated by off-grid applications, which can be installed with a great deal of flexibility. Households and small business owners can easily access solar energy. This comparative advantage gives solar energy the key to open the door to a larger market. According to Bloomberg's New Energy Outlook, solar and wind attract 73% of the investment in power-generating capacity.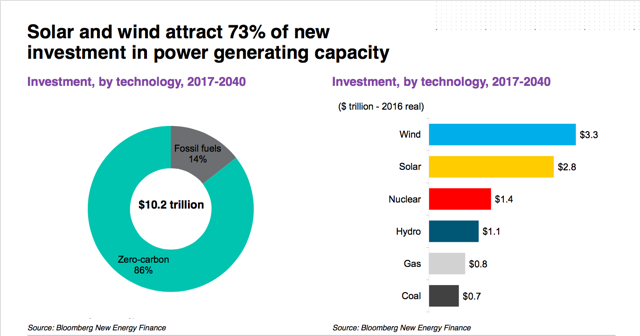 Source: Bloomberg New Energy Outlook
As a result, the cost of solar energy is consistently going down. Eventually, there will be more and more households and businesses willing to go with solar in the future.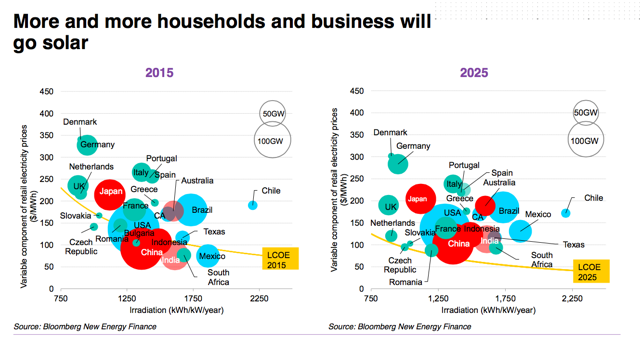 Source: Bloomberg New Energy Outlook
Market in China
The Chinese government set a deadline of July 1 as when subsidies for the new solar system were to be cut. Therefore, we expect to see a large increase in sales for the past second quarter. According to previous experience, sales tend to be significantly lower after most consumers have their applications installed before June 30 to get the subsidies.
Canadian Solar's stock price soared and reached 52-week high on July 19. That's because two weeks after the deadline, based on the Silicon Industry of China Nonferrous Metal Industry Association's data from the week of July 14, the price of polycrystalline silicon, the main raw material used in the solar industry, increased slightly by 0.33% compared to previous week. That implies strong demand should be expected in the second half of the year. Strong demand for raw materials could also be a result of the expanding market in off-grid solar applications.
Near Future for the Company
Canadian Solar recently expanded its business in Japan and has activated four PV plants with 52.5 MWp. In the meantime, according to the company's releases, it has secured several deals in the first half of 2017. It will supply 268 MW Daymond modules for the first phase of the 800 MW total DEWA (Dubai Electricity & Water Authority) project in Dubai. This one of the largest solar parks expected to be completed in 2020. The company has also announced it will supply 47 MWp in Australia. This project is scheduled to be activated in 2018.
Fundamentals
The company just released financial results from Q1 2017. Total solar module shipments were 1,480 MW, beating estimates in the range of 1,150 MW to 1,200 MW. Net revenue from the total solutions business as a percentage of total net revenue was 18.8%, compared to 6.6% in the fourth quarter of 2016. The company has found another business segment to keep growing. Last month, the project in Japan began its operations. The electricity generated from the project will be purchased by Kyushu Electric Power Co. under a 20-year feed-in-tariff contract at the rate of 40.00 yen ($0.37) per kWh. The price-to-sales ratio is only 0.35 now, compared with the industry average of 2.4. During the past 13 years, Canadian Solar's highest P/S ratio was 3.78. The lowest was 0.05 and the median was 0.44. Obviously, it is underestimated now.
Valuation
We used a DCF model to value the price. 2018 will have increased free cash flow to the equity because net income will jump due to the output from the new projects. To smooth our estimation, we used 2019 as our base year, and estimate the FCFE will grow by 5% for five years, then 2% after that. Here is our forecast: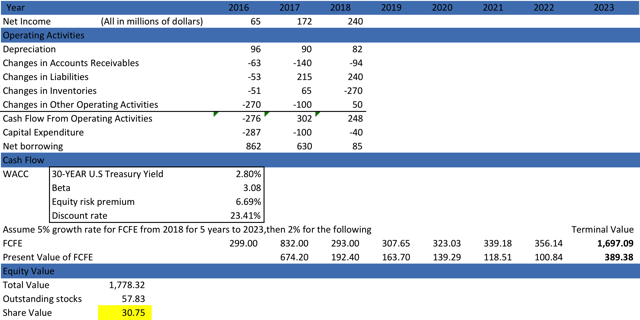 Source: Created by author
Risks
Protectionism by the Trump Administration: The new American president believes in putting "America first," which has led him to renegotiate NAFTA and launch investigations against imported products such as steel, lumber, and dairy goods. In the future, we cannot exclude the possibility that he will levy anti-dumping tariffs on the solar industry. Another demand-increasing country, India, while not likely to impose a tariff on solar power, will also launch an investigation. We cannot ignore the policy risk here.
High Volatility: Canadian Solar has a beta of 3.08. It is a high-volatility stock, 2.08 times more volatile than S&P 500 index. Investors could experienced additional suffering when the entire market faces downside risk.
High Debt: Canadian Solar raised billions in debt to build new capacity. As for the Q1 2017 balance sheet, current assets are $3521.36 million, less than the current liabilities of $3712.64 million. The project value Canadian Solar has now invested is estimated at $1.6 billion. However, the technology is developing very fast. If these projects are abandoned because of new technology and cannot generate enough revenue to cover the interest, Canadian Solar will have to raise more debt to invest in the new area, leading to a worse financial situation.
Conclusion
Humans are at a crossroads in terms of figuring out a new direction to go in with regard to energy. Renewable energy will gradually take over the market in the future. Solar energy is definitely one of the most realistic options. With the optimistic outlook for solar energy, we believe Canadian Solar — as one of the leading companies in the industry — will continue to experience sustainable growth. We rate CSIQ as a buy, and expect a strong performance in 2017 as well as in the long term. We target this stock at around $30.75.
Disclosure: I/we have no positions in any stocks mentioned, and no plans to initiate any positions within the next 72 hours.
I wrote this article myself, and it expresses my own opinions. I am not receiving compensation for it (other than from Seeking Alpha). I have no business relationship with any company whose stock is mentioned in this article.
About this article:ExpandAuthor payment: $35 + $0.01/page view. Authors of PRO articles receive a minimum guaranteed payment of $150-500.Tagged: Investing Ideas, Long Ideas, Technology, Semiconductor – Specialized, CanadaWant to share your opinion on this article? Add a comment.Disagree with this article? Submit your own.To report a factual error in this article, click here