YY.com (YY) is a company that I have placed on the watch list after aborted delisting attempt by the founders in the second-quarter of last year sent the stock plunging and the market capitalization halved in two months. YY's business of interactive live streaming social media platform is easy to appreciate and the industry is booming. It has three main revenue sources: sale of virtual items, subscriptions, and advertisements, which have all demonstrated strong and steady revenue growth. Nevertheless, even strong companies like Apple (AAPL) and Alibaba (BABA) have various risk factors that keep certain investors away from their stocks. For myself in YY's case, the concern over its ability to fend off larger integrated competitors as well as the rising revenue sharing to the hosts and performers had kept me away from taking a position last year. Since then, it became a stock that is drowned in the dozens of companies on my watch list and neglected, to my misfortune.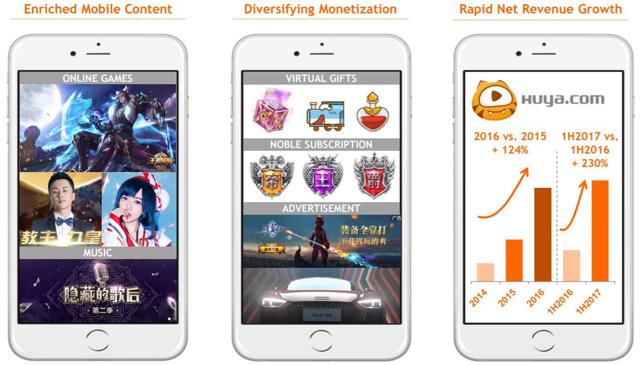 (Source: Company)
I am prepared for comments in the likes of "shutting the barn door after the horse has bolted" with regards to my writing of YY's stock surge after it happened. The reason for doing so is the realization that I missed such an excellent opportunity to enter a position in the stock last year despite "discovering" it when it was trading in the doldrums. Hence, I wanted to learn from the episode, looking at what I missed then, such that I would, hopefully, not let similar opportunities slip in the future. Readers who can relate to what I have described could similarly benefit. Besides, those who have not come across this company in the past could use this article as a starting point in their research. Through this exercise, I realized there were both fundamental and technical aspects that could have prompted an investment in YY in the later part of 2016.
Technical Analysis: YY's Share Price Broke Out Of Downward Channel
Fundamental analysis by nature takes much more time than a technical one. Hence, it is typically more productive in the stock research to first perform a cursory technical analysis before deciding if further time and effort should be expended. I have highlighted some profit-making candidates in my previous articles based on the share prices touching the bottom of the channel which could potentially rebound to the upper end of the channel. Those had turned out to be rewarding, for instance, Crocs (CROX) and Uni-President (OTCPK:UNPSF)(OTCPK:UPCHY), where the share price gained more than 60% and 20% respectively on the rebound. Nevertheless, what often results in more upside is when the share price breaks out of its channel, particularly a multi-year one. The upside here refers to the profit made from the trade, as the share price could break out of a downtrend channel, or an uptrend one, in which case you could earn from shorting the stock.
In YY's case, you can see from the chart below that in March, the share price initially pierced through the ceiling of the downtrend channel which began in 2H 2014. Just before, there was also a formation of a "head-and-shoulder" pattern. These two phenomena combined to give a clear bullish signal and warranted a deeper study into the fundamentals to determine if the upwards push has legs. This is a simple charting that does not take much time to do yet says a lot without going into Elliott wave counting, Fibonacci drawing, etc. Of course, this is probably obvious now in hindsight but the premise was not about trading solely on technical analysis then. It was to serve as a trigger for fundamental study.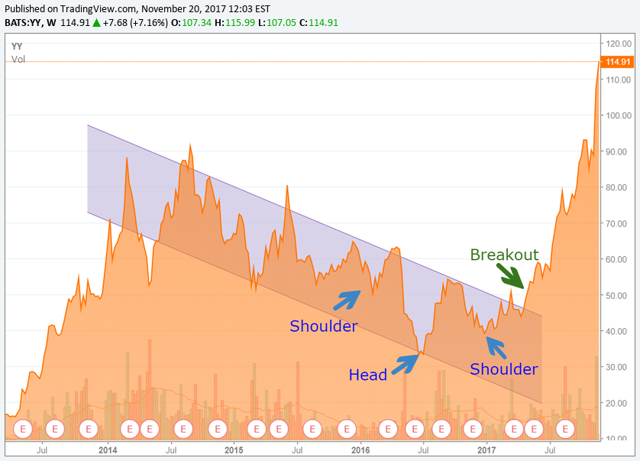 Industry Prospects
The industry growth potential is attractive in view of the tremendous interest in "following" influencers and subject matter experts in real time. This phenomenon is particularly prevalent in China due to several factors for which I list four.
Firstly, as a result of the long-running one-child policy, many children and young adults are the only child in their families. Both parents are usually working and might not even be present at night due to the cross-country, international nature of today's businesses, on top of episodes of overtime. Hence, there is usually only one person in the house. Globally, and in China even with the relaxation of the one-child policy, there is less interest in having more than one child anyway, due to the escalating cost and the desire to provide undivided attention to the only child. According to a report by the National Health and Family Planning Commission, the average household family size declined to 3.02 in 2012 from 5.3 in the 1950s. The interactive live streaming platforms offer companionship and entertainment to the lone occupant in the house.
Secondly, due to the huge population but limited top-quality institutions and jobs, there is great pressure to outperform one's peers. Watching subject matter experts live enables one to learn the topics of one's choosing at a relatively low cost and in the privacy of one's living quarters. Questions can also be sent on the spot while viewers feel engaged and empowered with the tools at his disposal, such as the ability to gift a virtual item to demonstrate his appreciation.
Thirdly, with the rising income of the Chinese, they are looking for fresh ideas to enrich their experiences. There is also the desire to differentiate oneself and stay ahead of others. Influencers introduce to their audiences freshly released merchandises and novel activities which are likely to be sponsored.
Last but not least, the growing desire for instant gratification where viewers demand live streaming is similar to why people watch live sports. In fact, computer gaming is now regarded as e-sports. With the innovations in computer and mobile games, the thrill factor of playing has been raised significantly, hooking more players and increasing the duration of play. The complexity of the gameplay has also risen. Consequently, there is higher interest to learn from the best in the field and follow major competitions through live streaming. In addition, there is the element of betting on the game outcomes that accentuates the interest and importance of live streaming.
Business Challenges and Remedies
Business-wise, YY was facing several key challenges last year which remain unabated but the company has managed to bank on new initiatives and thrive, supported by the splendid industry growth. It has an ongoing legal case regarding game content copyright with Netease which runs its own live broadcasting platforms. Tencent (OTCPK:TCEHY) (OTCPK:TCTZF), the first Chinese company to break through the $500 billion valuation mark and now ranks among the world's top five corporations, has its own game broadcasting via its QQ platform which began as a desktop messaging application. QQ remains hugely popular although its sister messaging application, WeChat, has taken over the reign due to the much heavier mobile phone usage. Tencent is a formidable competitor as it produces its own games. Thus, by going into game broadcasting, it is essentially capturing the downstream profits in-house. This is similar to what Disney (DIS) is trying to do by streaming its own content, rather than relying on Netflix (NFLX) for distribution.
The weakness of YY being its standalone streaming player status as compared to say Tencent is actually also its key advantage. Top hosts and performers are increasingly demanding due to their popularity and the sprouting of new live streaming platforms. YY being focused on the streaming business are better able to support the hosts' needs and keep them satisfied other than the use of monetary compensation. Another benefit from its niche position is its attention to nurturing mid-tiered hosts with the potential to join the top league. It is obviously a more sustainable method to grow its own pipeline of top hosts as compared to poaching from competitors which would be a huge expense drag that might not pay off.
Note that YY's revenue-sharing fees and content costs had climbed up to 54 percent of its live streaming revenue from just 46 percent in 2014. However, this expense has shown a slight moderation in the first-half of 2017 (see the chart below). Providing the necessary training and support to mid-tiered hosts is also a more effective way of retaining users and attracting new ones as the hosts improve their delivery and content. Finally, to mitigate the stiff competition in the China market, YY has through its investment in Bigo, explored opportunities in international markets.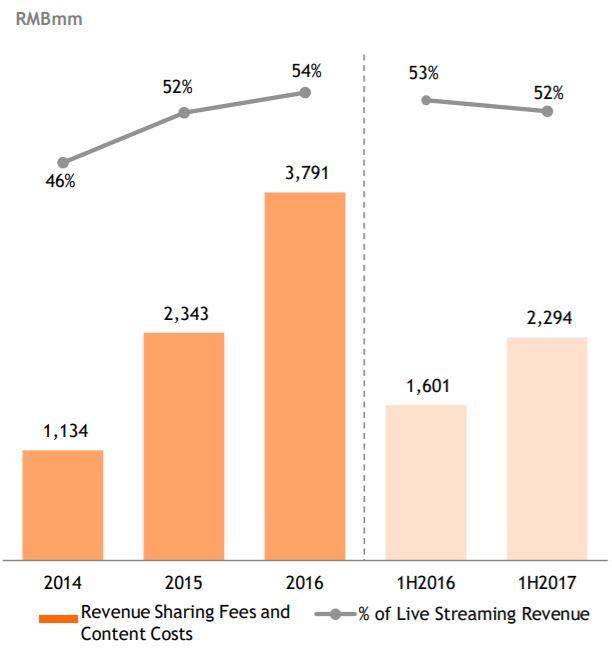 Operating Metrics Have Improved
Fundamentally, YY has demonstrated strong steady revenue growth. Since 2013, its revenue has skyrocketed by 10 times. Comparatively, its share price lagged its phenomenal revenue expansion though that has changed dramatically thus far this year. YY's share price has tripled since the beginning of 2017.
YY data by YCharts
Despite the huge share price appreciation, YY's price-to-sales ratio remained a paltry 4.7 times. Comparatively, its Internet peers, Facebook (FB), Alibaba, and Tencent, are trading at a P/S ratio in the range 14.8 to 18.4 times. A less apt but still relevant peer, Snap (SNAP), has a larger P/S ratio at 20.6 times even though it faces steep challenges in growing its user base and monetizing its services.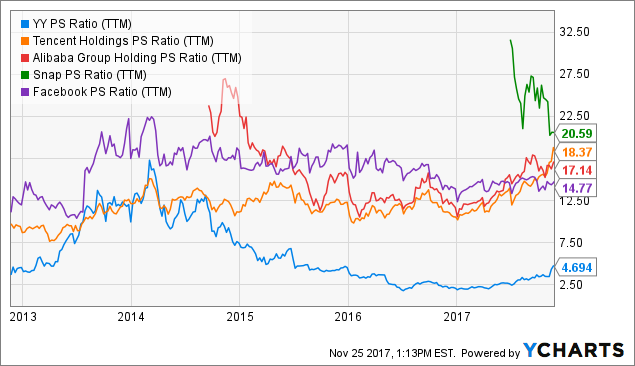 YY PS Ratio (TTM) data by YCharts
Its operating cash flow has shown consistent improvement thanks to its steady profit growth. Year-on-year, the operating cash flow increased a whopping 66 percent in the first half of 2017. This set of strong cash flow has helped turn the company into a net cash position currently, a rarity for a technology firm.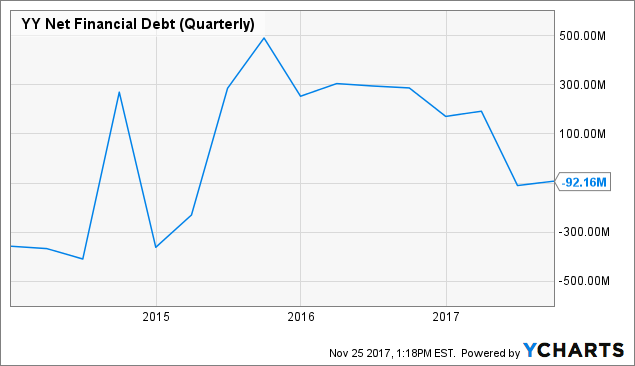 YY Net Financial Debt (Quarterly) data by YCharts
With all the glowing operating improvement as elaborated above, perhaps some dose of caution is warranted. While the operating margin has risen from the trough in 2015, note that the spike in the share price has more than reflected this (see the chart below). In fact, the margin has shown some weakness in the recent quarters.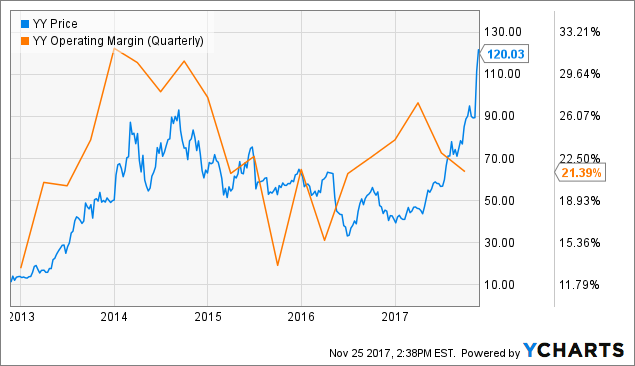 YY data by YCharts
Conclusion And Recommendation
The saying goes, hindsight is 20/20. However, learning from the past can help us avoid making similar mistakes in the future. The review into how I missed profiting from YY's stellar share price appreciation revealed that I failed to notice two apparently obvious bullish chart patterns formed in the fourth-quarter of 2016. Otherwise, I would have the impetus to investigate further on the fundamental improvements while the share price was on the cusp of a strong climb.
YY has come a long way in terms of improving its communication. In the past, the lack of a Q&A session following its earnings conference call was a deterrent to an investment in the company, due to the perceived transparency concern in light of the numerous fraud cases we have heard of Chinese businesses. The nagging thought was: were the management unable to stand up to scrutiny by the analysts? That changed in 2016 when analysts began participating in the earnings calls and the top executives addressed pertinent questions such as its strategies in dealing with the competition as well as providing insights on the industry developments.
Industry prospects are bright but competition from larger players and small start-ups continue to pressure YY. In fact, one of its major shareholder, Jun Lei, who holds 15.5 percent of the outstanding shares of YY, is a direct competitor. Jun Lei, a Chinese tech billionaire, is the founder of the leading Chinese phone brand Xiaomi which has recently started to offer online performance and live broadcasting services. Nevertheless, YY has been able to not merely respond to industry trends but also lead through its innovations developed in-house. This is reflected in its strong revenue growth. The ability to execute on its strategy is a testament to the management's strength.
The share price has surged significantly this year. Historically, YY has traded near the low end of the price target by analysts. However, it is now trading closer to the high end, indicating stronger market confidence and limited room for further appreciation. New investors looking for exposure to the high growth live streaming industry would be facing a high hurdle at this entry point. Nevertheless, assuming that the price-to-sales ratio remains unchanged from today, YY's share price could still climb to $156.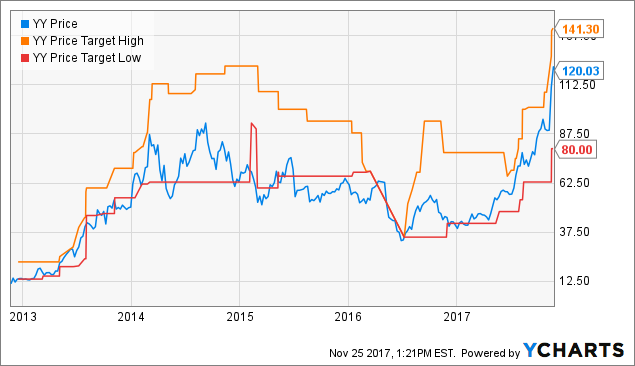 YY data by YCharts
The one-year target price is derived by taking a 30 percent increase to the current trailing-twelve-month revenue per share of $25.57 multiplied by the P/S ratio of 4.7 times. This is a conservative projection as the revenue has expanded by a CAGR of 49 percent in 2014-2016. In the latest reported quarter, 3Q 2017, the revenue was higher by 48 percent compared to the corresponding period in the previous year. This is an acceleration after a more tepid first-half which grew 34 percent year-on-year. Its net cash position could continue to improve with the operating cash flow, providing further fundamental support. Interested investors should bear in mind the challenges mentioned in this article and note that an entry at the current point is certainly offering a lesser margin-of-safety as compared to the beginning of the year.
What are your concerns? Share your thoughts with the Seeking Alpha community!
Author's Note: Thank you for reading. If you would like a refreshing take on stocks that you own or are interested in, try looking here. If you wish to be informed as soon as they are published, please click on the "Follow" button below the title.
If you like this article, please let me know by leaving a comment. Otherwise, kindly provide constructive feedback to help me craft better articles to aid in your analysis.
Disclosure: I am/we are long BABA, AAPL, DIS.
I wrote this article myself, and it expresses my own opinions. I am not receiving compensation for it (other than from Seeking Alpha). I have no business relationship with any company whose stock is mentioned in this article.
Editor's Note: This article discusses one or more securities that do not trade on a major U.S. exchange. Please be aware of the risks associated with these stocks.
About this article:ExpandAuthor payment: $35 + $0.01/page view. Authors of PRO articles receive a minimum guaranteed payment of $150-500.Tagged: Investing Ideas, Long Ideas, Services, Business Services, China, Editors' PicksWant to share your opinion on this article? Add a comment.Disagree with this article? Submit your own.To report a factual error in this article, click here