Week 39 Selections are as follows:
Positive Acceleration Momentum Stocks
This week I have selected 8 breakout stocks from the following sectors: 2 healthcare, 2 industrial goods, 1 basic materials, 1 services and 2 technology. Charts for each stock are at the end of the article.
The new selections of positive momentum stocks for this week include:
Agile Therapeutics (AGRX)
Builders FirstSource (BLDR)
Town Sports International Holdings (CLUB)
Energy Recovery (ERII)
Four additional long positions available to subscribers. Four Negative acceleration momentum stocks available to subscribers. Breakout tracker by sector shows subscribers where momentum is building. Intro
Welcome to the Momentum Breakout Selection list for Week 39. This article provides the complete list of Breakout Stocks for subscribers only. If you are interested, here is a link to the 2017 YTD performance results. A brief summary of the selection methodology for these momentum stocks can be found in my primer article on quick pick momentum accelerators. Last week's forecast article is linked here.
Performance Summary
Week 38 Breakout Portfolio returned 1.76% (long and short positions combined). Long selections are consistently outperforming the market and produced returns of 4.34%. Breakout in DRNA of +17.14% extended the selection streak through 13 straight weeks (26 weeks out of 28 weeks) with 10% gains within 5 days. Intraweek gains by IDRA +13.27% and NL +14.94% were also achieved. Total long portfolio returns by week of the past 5 weeks (t-5) are listed below through the end of Week 38:
| | |
| --- | --- |
| Breakout Forecast | Total Long Portfolio Returns to Date |
| Week 38 (t-1) | +4.34% (DRNA) +17.14%, (NL) +10.13%, (IDRA) +5.69% |
| Week 37 (t-2) | +4.99% (ACTG) +32.00%, (HIVE) +5.42%, (XXII) +4.80% |
| Week 36 (t-3) | +13.12% (VTL) +60.66%, (VSTM) +21.43%, (ARRY) +14.92% |
| Week 35 (t-4) | +9.59% (FLDM) +22.04%, (KPTI) +17.46%, (TUES) +17.07% |
| Week 34 (t-5) | +18.15% (ARWR) +67.45%, (QNST) +53.02%, (LTM) +18.51% |
The typical momentum duration horizon from this analysis appears to be one to three weeks, but as the rolling 5 week table above illustrates, these stocks can carry positive momentum for many weeks and some may return to the selection list in the current week .
All past selections of individual returns are available on my list of articles by Breakout Forecast Week. This includes daily and weekly returns for all stocks selected since the beginning of 2017. These stock selections are intended to provide the highest probability of greater than 10% gains within the first week (5 trading days) by focusing on accelerating momentum characteristics detailed in my primer article linked above.
End of week results for Week 38:

End of Week 38 Benchmark Indexes:

Charts of Week 39 Selections are as follows:
Positive Acceleration Momentum Stocks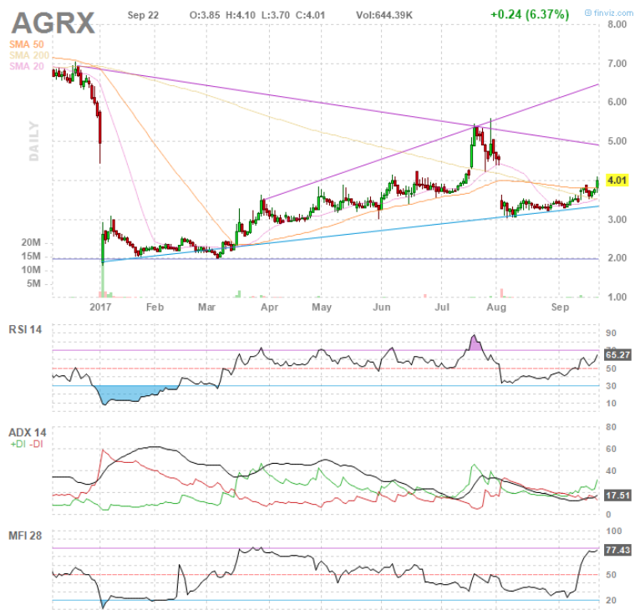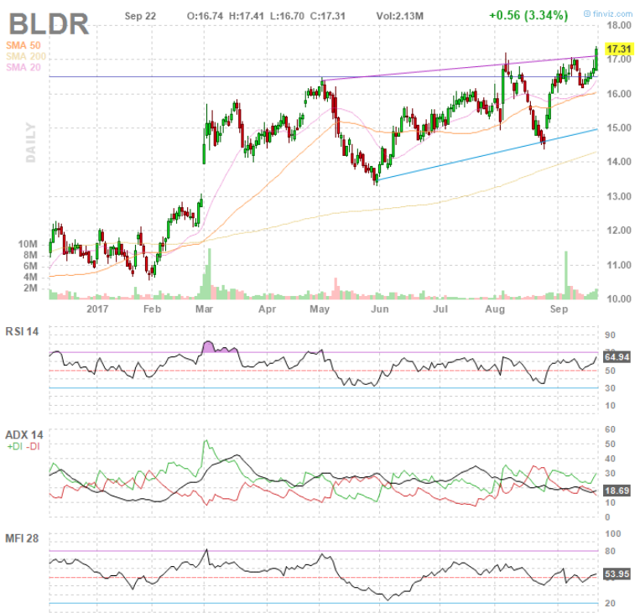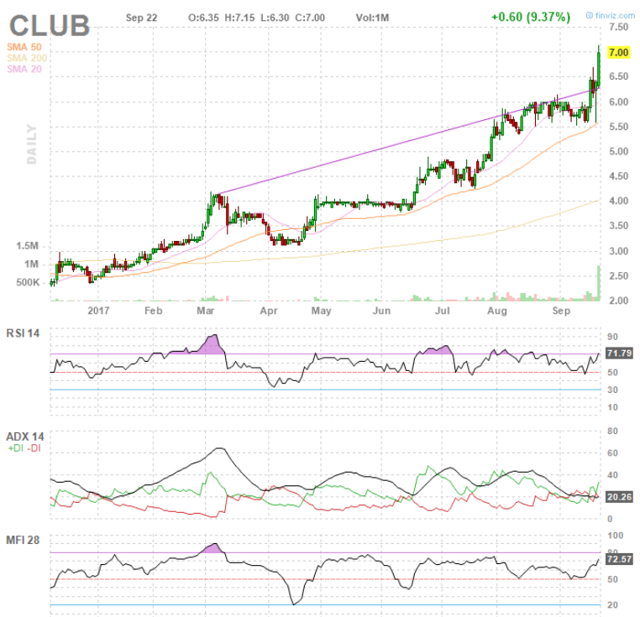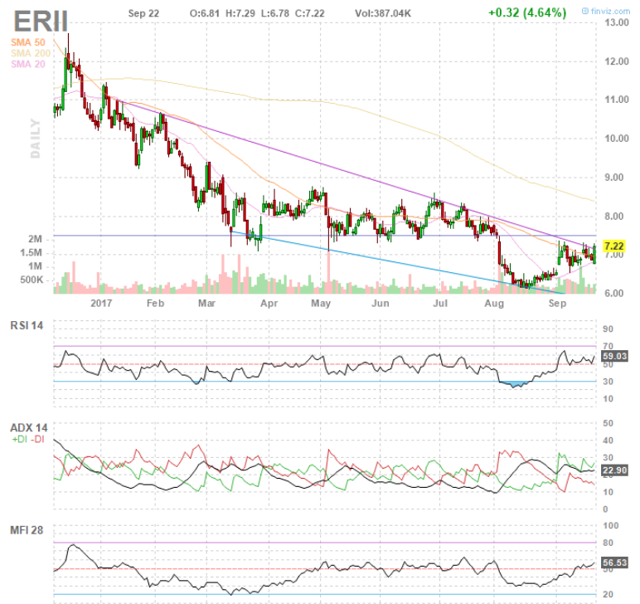 As always, I hope you capture the most beneficial of these breakout selections and have a profitable week of trading! Thank you for following my articles and if you haven't already just click the Follow button at the top of the page.
Remember, a monthly subscription gets you a minimum of 4 weeks of Breakout Stock Forecasts each plus additional reports and value stock selections. If these picks are generating good results for you, consider receiving the full 8 long selections and 4 short selections each week with a subscription today!
Thank you!
JD
Disclosure: I am/we are long DRNA HiVE TUES.
I wrote this article myself, and it expresses my own opinions. I am not receiving compensation for it (other than from Seeking Alpha). I have no business relationship with any company whose stock is mentioned in this article.
Editor's Note: This article covers one or more stocks trading at less than $1 per share and/or with less than a $100 million market cap. Please be aware of the risks associated with these stocks.
About this article:ExpandAuthor payment: $35 + $0.01/page view. Authors of PRO articles receive a minimum guaranteed payment of $150-500.Tagged: Investing Ideas, Quick Picks & ListsWant to share your opinion on this article? Add a comment.Disagree with this article? Submit your own.To report a factual error in this article, click here