ROTY (Runners of the Year) is a strategy which involves two parts, the official 10 stock model account and our Contenders List of ideas. Basically, we are looking for stocks that could outperform (ideally double or more) within the near to medium term (next quarter to 12 months out). While the majority of these come from the biotech sector due to a high amount of ideal setups, we do have a "go anywhere" approach.
Each week, I publish between two and three editions of ROTY – some readers take time to delve into the entire post while others skip down to updates on our holdings and new trades. Here is a link to our most recent edition. Trades occur at the day's closing price for the sake of transparency and in quarter-sized chunks (full position = $10,000) so that readers can easily follow along and replicate as they see fit.
With the close of Thanksgiving week performance for the ROTY model account might just finish November on a high note, especially as compared to the biotech sector's poor showing over the same period of time.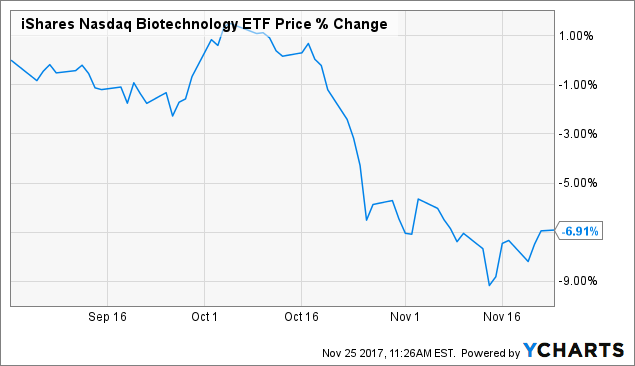 IBB data by YCharts
Today we are going to focus on three ROTY model account holdings that are doing well and how to manage them going forward. Part of the ROTY philosophy hinges on being quick to sell losers or non-performers while having patience with ideas that are working out with a strong rationale for further upside ahead.
Long time readers know that risk management is very important to me and something I try to constantly communicate, although we don't have any set "sell rules" per say. I firmly believe that each situation is different and merits a unique approach. A general principle is to take partial profits on the way up, but depending on conviction we could be slower to part ways with shares if the bull case keeps strengthening and a much higher valuation appears probable.

Full Position: Global Blood Therapeutics (GBT)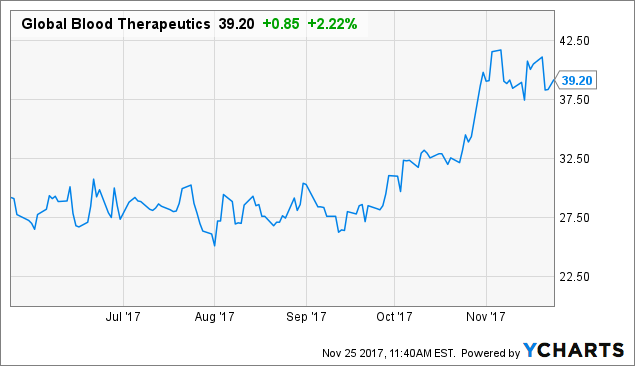 GBT data by YCharts
Latest Article: Global Blood Therapeutics: When Single-Patient Data Is A Significant Catalyst
Near Term Catalysts: At the ASH meeting in December the company will unveil new data from the Phase 2a HOPE-KIDS 1 Study, and updated findings from seven adult SCD patients with severe anemia and multiple co-morbidities who received voxelotor through compassionate access. A total of 7 abstracts were accepted for presentation.
Upside in 2018: I firmly believe the stock is a strong M&A candidate. However, in the near term data from the part A portion of the pivotal study and top-line data in the first half of 2019 are worth holding on for if everything stays on track.
Risk Factors: Risks are many, including the possibility of negative data from the first portion of the phase 3 study. Such an outcome would be devastating to the bull thesis, with the only cushion being the company's cash position (less likely outcome). Concentration risk is a concern, as the majority of the company's value rests on a lone asset, and IPF is no longer a part of the equation. Considering their significant cash position dilution in the near term is not expected, although they might again tap capital markets in late 2018. The longer wait until top-line data in 2019 could result in significant volatility. If a significant trend develops with insider selling, that could also cause a crisis of confidence.
Current Strategy (as long as thesis stays intact): I intend for the ROTY model account to continue holding its full position. I believe we might have trapped lightning in a bottle here, and the biggest gains made in the stock market are often realized by simply holding on to the right stocks. That said, if irrational exuberance really sets in and we get way ahead of ourselves, I might stick to my conservative nature and take partial profits (25% to 50% of the position) while holding the rest for continued upside. If significant red flags make their appearance and the situation appears riskier, ROTY could take full profits and move on to our next idea (unlikely but possible).
3/4 Position: ArQule (ARQL)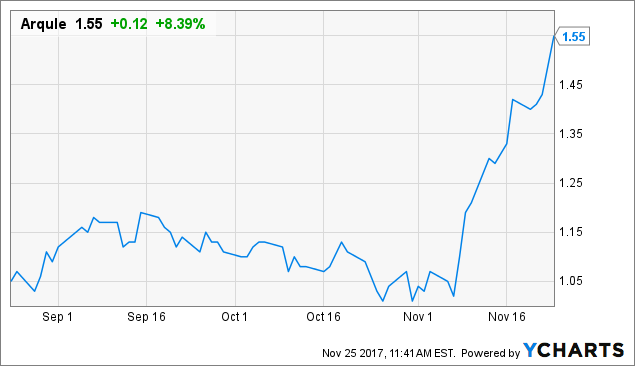 ARQL data by YCharts
Latest Article: Arqule: Updates After 3Q Results
Near Term Catalysts: Presentation of data at major medical meeting for ARQ 092 in patients with Proteus Syndrome should come soon.
Upside in 2018: Now that the primary endpoint of the phase 1 study in Proteus syndrome has been met and 5 of 6 patients experienced a reduction of at least 50% of phospho-AKT levels with signs of disease modification, the company appears to have a decent shot at eventually getting that priority review voucher. Patients are also being dosed in the company's own early-stage study in Overgrowth Diseases driven by PI3K and AKT mutations (much larger addressable population), so any positive data here could boost shares as well. The company's reversible BTK inhibitor should get more attention in the medium term, and their pivotal study evaluating pan-FGFR inhibitor ARQ 087 in FGFR2 fusion positive second-line intrahepatic cholangiocarcinoma is enrolling patients in the United States allows for interim analysis after 40 patients have been evaluated for response. I think there is a decent shot of showing sufficient response rates, with the company to potentially obtain conditional approval in that scenario.
Risk Factors: Taking into account recent offerings, the last reported cash balance and current cash burn, there appears to be a low risk of further dilution until late 2018 (except for warrants). Disappointing data for ARQ 092 in overgrowth disease patients, ARQ 087 in FGFR2 fusion positive second-line intrahepatic cholangiocarcinoma or ARQ 531 in B-cell malignancies who are refractory to ibrutinib would also negatively impact the share price. The most material of these would be the first drug candidate, while the biggest upside kicker (providing optionality) is their BTK inhibitor ARQ 531. Competition for certain programs is also a concern, such as Sunesis' non-covalent BTK inhibitor SNS-062 also reporting results in mid 2018. The company also needs clarity for the regulatory pathway for miransertib in overgrowth disease patients, and the ultra-rare nature of the disease could lead to slow enrollment in ongoing clinical studies.
Current Strategy (as long as thesis stays intact): With several possible value drivers and reasons for the stock to rise, including data in overgrowth disease patients and interest in the reversible BTK inhibitor space, not to mention institutional interest as seen in recent private financings (even if terms were horrible), I plan to hold on to our position through the medium term. In the event of excessive optimism and valuation, we might sell the position by the middle of next year.
3/4 Position: Trillium Therapeutics (TRIL)
TRIL data by YCharts
Latest Article: Trillium Therapeutics: The Story Keeps Getting Better
Near Term Catalysts: At ASH they will be presenting data from the phase 1 open-label study involving weekly IV infusions of TTI-621 evaluated in several cohorts of adult patients with advanced disease (relapsed or refractory malignancies). Objective responses have already been observed (including two complete responses).
Upside in 2018: As responses to TTI-621 were observed at low doses, the hope is now that at higher doses we will see more responses and safety concerns will be manageable. If the initial observation (that transient thrombocytopenia lessens after multiple infusions allowing for increased exposure after the initial dose) holds up and we see improved activity at higher doses, share price highs last seen in 2015 could be surpassed.
Increased activity and interest in the CD47 space, including Google's (NASDAQ:GOOG) (NASDAQ:GOOGL) venture arm (along with other investors) backing startup Forty Seven with a $75 million commitment to progress anti-CD47 antibody Hu5F9-G4 into two early-stage studies, should also boost valuations higher.
I look forward to finding out more on which investors participated in the recent private placement and also thought that recent data for their next generation EGFR inhibitor TT-2341 was highly intriguing.
Risk Factors: After the recent financing, the risk of dilution appears to be off the table in the near term. I am further convinced after recent data that a partnership (or buyout) could be forthcoming, which would reduce the risk of dilution even more. However, if significant business development does not take place in the medium term that disappointment could be reflected in the share price. Another primary concern is further safety issues which should still be taken into consideration. Severe adverse safety events (including the possibility of a clinical hold) should be carefully considered prior to taking a position. Setbacks in ongoing and planned studies (both as a monotherapy and in combination) would negatively impact the stock price as well. Readers would also do well to keep tabs on progress by competition in the space.
Current Strategy (as long as thesis stays intact): As stated before, I believe this one has much ground to cover before remotely being considered fairly valued. As CD47 is overexpressed in many indications (i.e. AML, MDS, CLL, various solid tumors, etc) I expect Wall Street analysts to jump on board and adjust their valuation models for TTI-621 peak sales. The drug candidate could also have utility in combination with checkpoint inhibitors and other agents. While the future is very uncertain and I will be the first to say I need clarification from upcoming data readouts in the near term and next year to better understand the potential here, I believe the stock is a good medium term hold as we follow the positive signs and wait. In the event of really getting ahead of itself, partial profits while retaining future upside is a likely scenario.
Author's note: My goal is to bring to readers' attention undervalued stocks with catalysts that could propel shares higher, as well as provide a fresh perspective on stocks you may already be aware of. I also touch on planning trades and risk management, as those are two areas I feel are often neglected. If you found value in the above article, consider clicking the orange "Follow" button and getting email alerts to receive my latest content. My sincere appreciation for readers who add value and join the discussion in the comments section, as well as those who share my work with others who could benefit from it.
Disclaimer: Commentary presented is not individualized investment advice. Opinions offered here are not personalized recommendations. Readers are expected to do their own due diligence or consult an investment professional if needed prior to making trades. Strategies discussed should not be mistaken for recommendations, and past performance may not be indicative of future results. Although I do my best to present factual research, I do not in any way guarantee the accuracy of the information I post. Investing in common stock can result in partial or total loss of capital. In other words, readers are expected to (and encouraged) form their own trading plan, do their own research and take responsibility for their own actions. If they are not able or willing to do so, better to buy index funds or find a thoroughly vetted fee-only financial advisor to handle your account. I am in a collaborative relationship with The Biotech Forum/Bret Jensen.
Disclosure: I am/we are long AVEO, GBT, GLYC, TRIL.
I wrote this article myself, and it expresses my own opinions. I am not receiving compensation for it (other than from Seeking Alpha). I have no business relationship with any company whose stock is mentioned in this article.
Editor's Note: This article covers one or more stocks trading at less than $1 per share and/or with less than a $100 million market cap. Please be aware of the risks associated with these stocks.
About this article:ExpandAuthor payment: $35 + $0.01/page view. Authors of PRO articles receive a minimum guaranteed payment of $150-500.Tagged: Investing Ideas, Quick Picks & Lists, Healthcare, BiotechnologyWant to share your opinion on this article? Add a comment.Disagree with this article? Submit your own.To report a factual error in this article, click here