On Monday September 18th Citron Research made headlines by unveiling their short thesis on Ubiquiti Networks (UBNT). We had looked at Ubiquiti Networks in the past as a possible investment and decided to pass because of numerous issues we found with the company. We thought we would share some of our concerns and some just plain perplexing things we found with Ubiquiti.
Perplexing Business Model
Ubiquiti Networks high growth and high profit margins are what initially prompted our interest in the company. However, we have been unable to figure out what competitive advantage the company has that has allowed it to earn outsize profits and see above average sales growth.
In public documents, the company frequently references its disruptive and proprietary technology. Here is just a sampling of what the company says on page 6 of its 10-K when its describing its solutions.
High performance proprietary technology solutions. Our propriet ary products and solutions include high performance radios, antennas, software, communications protocols and management tools that have been designed to deliver carrier and enterprise class wireless broadband access and other services primarily in the unlicensed RF spectrum. Our radios and antennas, which incorporate our innovative proprietary technologies and firmware, are designed and field tested to deliver carrier-class network speeds, throughput, range and coverage, while simultaneously meeting the varying performance requirements of video, voice and data traffic. Our products and solutions overcome significant performance challenges such as dynamic spectrum noise, device interference, outdoor obstacles and unpredictable levels of video, voice and data performance. Importantly, we are able to utilize the Ubiquiti Community to validate the effectiveness of our end user experience and focus our development efforts on those features and functionality that are critical to t heir requirements.
Just two pages later, on page 8, its saying the same thing again.
We offer products and solutions based on our proprietary technology with disruptive price-performance characteristics across multiple markets. Utilizing low cost hardware, consumer chipsets and innovative software and firmware, we build price-performance solutions to address both service providers and enterprises. In addition, our technology allows us to design our products for ease of manufacture. Our focus on cost efficiency, robust product design and high performance drives the development of our technology, products and solutions.
This continues throughout the entire 10-K. In fact its latest 10-K the company used the word disruptive 12 times and proprietary 28 times.
By contrast, the industry leader in network hardware with a $6B research and design budget, Cisco Systems (CSCO) used the words disruptive and proprietary four and 17 times respectively in its latest 10-K.
Compared to other industry players Ubiquiti spends a miniscule amount of money on R&D. The table below from Ubiquitis 10-K shows its annual R&D expenses for the past three years.

Last year the company spent just 8% of sales on R&D. In contrast to the much larger Cisco whose $6B R&D budget for last year amounted to 12.5% of sales.
Despite stating to investors it has a great competitive position and industry leading technology, no one else seems to think so. Ubiquiti lists its competitors in its 10-K
In the backhaul market, our competitors include Cambium Networks, Ceragon Networks, DragonWave, Mikrot卯kls, Mimosa, SAF Tehnika and Trango. In the CPE market, our competitors include Cambium Networks, Mikrot卯kls, Ruckus Wireless and TP-LINK Technologies. In the antenna market, we primarily compete with PCTEL, ARC, ITELITE and Radio Waves. In the enterprise WLAN market, we primarily compete with Huawei, Aerohive Networks, Aruba Networks (HPE), Ruckus Wireless (Arris), Cisco Meraki and Cisco. In the video surveillance market, we primarily compete with Axis Communications, HIKVISION, Mobotix and Vivotek. We expect increased comp etition from other established and emerging companies if our market continues to develop and expand. As we enter new markets, we expect to face competition from incumbent and new market participants.
However, when we looked at the competitors 10-Ks we find that they do not list Ubiquiti. For example, here is Ceragons list of competitors from their latest annual filing.
The market for wireless equipment is rapidly evolving, highly competitive and subject to rapid change.
Our primary competitors include industry generalists such as Fujitsu Limited, Huawei Technologies Co., Ltd., L.M. Ericsson Telephone Company, NEC Corporation, Nokia and ZTE Corporation, each providing a vast wireless solutions portfolio, with a wireless backhaul solution within their portfolio. In addition to these primary competitors, a number of smaller microwave communications equipment suppliers, including Aviat Networks Inc., DragonWave Inc., and SIAE Microelectronica S.p.A., offer or are developing products that compete with our products.
Ubiquiti is no where to be seen. Here is now-bankrupt DragonWaves list of competitors.
We have experienced, and expec t to continue to experience, intense competition from a number of companies. Among independent microwave vendors, we compete principally with Aviat Networks, Inc., Ceragon Networks Ltd., SIAE Microelettronica and NEC Corporation.
No Ubiquiti again. Finally Arris extremely thorough competitors list from its 10-K has 38 different companies listed but Ubiquiti is nowhere to be found.
Deteriorating Operating Metrics
The other area of concern we had about Ubiqiuti relates to some of its operating metrics. The chart below shows sales, cost of revenues, accounts receivable (A/R), and inventories for Ubiqiuiti for each of the past five fiscal years.

We can see a marked deterioration in two important inventory and accounts receivable metrics. While sales have certainly been growing rapidly, inventory is growing even faster. Days sales of inventory on hand has increased from 31 days back in 2013 to 110 days for the latest fiscal year. The story is the same with receivables, the companys days sales outstanding has gone increased by about 19 days over the past five years. The company is stocking more inventory and collecting cash from customers at much slower rate than at any time in the past five years.
This has also had an effect on the companys operating cash flow as shown below.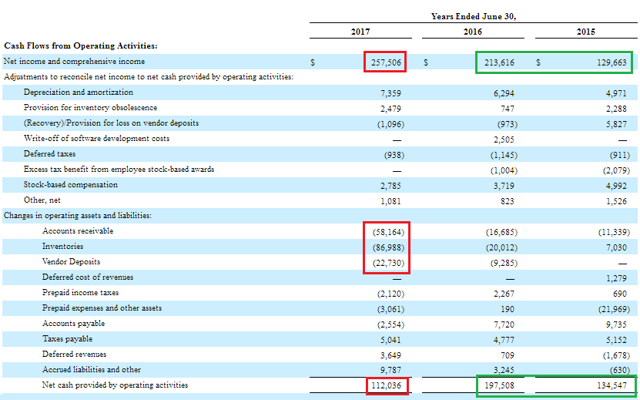 We can see that the company built up an additional $87M of inventory and its failure to collect receivables in a timely manner led to a negative $58M adjustment to net income. In 2016 and 2015 the companys cash flow from operations roughly matched its reported net income. In 2017 the companys cash generated form operations is over 50% lower then its reported net income.
In light of Citrons report alleging fake distributors for the companys products, these statistics should be particularly alarming. If Ubiquiti was indeed channel stuffing, although we are not alleging they are, increasing days inventory on hand and increasing days sales outstanding are two of the warning signs wed expect to see.
Summary
We hope the research we did and some of the red flags we found regarding Ubiquiti Networks can help other investors who are interested in the stock. None of what we found researching Ubiquiti contradicts what Citron found. Indeed, like them, we see many issues at the company.
Disclosure: I/we have no positions in any stocks mentioned, and no plans to initiate any positions within the next 72 hours.
I wrote this article myself, and it expresses my own opinions. I am not receiving compensation for it (other than from Seeking Alpha). I have no business relationship with any company whose stock is mentioned in this article.
About this article:ExpandAuthor payment: $35 + $0.01/page view. Authors of PRO articles receive a minimum guaranteed payment of $150-500.Tagged: Investing Ideas, Short Ideas, Technology, Wireless CommunicationsWant to share your opinion on this article? Add a comment.Disagree with this article? Submit your own.To report a factual error in this article, click here