tags:
Boosting its capital-structure flexibility, Plymouth Industrial REIT, Inc. (PLYM Quick QuotePLYM ) entered into a $500-million combined unsecured credit facility. This included an amendment of revolving credit facility of $200 million, a term loan amendment of $100 million, as well as a new term loan of $200 million. With this, the company extended its maturities and reduced borrowing costs.
Subject to certain conditions, the company can further increase its borrowing capacity up to $1 billion by exercising an accordion feature in the combined unsecured credit facilities.
The amended revolving credit facility of $200 million is expected to mature in August 2025. The maturity of the facility can be extended by an additional year by using two six-month extension options. Interest rate on the amounts outstanding under the revolving facility will be LIBOR plus a margin between 135-190 basis points (bps), with no LIBOR floor, depending on the company's leverage. Earlier, the revolving facility was charged at a margin between 145 to 200 basis points with LIBOR floor of 30 basis points. This has enabled the company to reduce its borrowing costs.
Moreover, the amended term loan matures in August 2026 and the new term loan matures in February 2027.
The amounts outstanding under the term facilities will bear an interest rate at LIBOR plus a margin between 130 and 185 bps. The charge will depend on the company's leverage.
Per management, "With the support and commitment from our expanded bank group, we have continued to match the scale of our growing platform with unsecured borrowing capacity at lower rates and well-laddered maturities. This credit facility provides us with significant flexibility and efficiency within our capital structure to fund our growth."
With the expansion of unsecured credit facilities, the company is well poised to fund its acquisition goals as well as fund its development efforts. The REIT is focused on acquisitions, owner! ship and management of single and multi-tenant industrial properties in the industrial, distribution and logistics markets. It is likely to capitalize on growth opportunities amid a robust industrial market backed by rising e-commerce market, supply-chain strategy transformations and spur in demand for incremental inventory storage.
Shares of this Zacks Rank#3 (Hold) have gained 50.2% over the past six months, outperforming the industry's growth of 18.4%.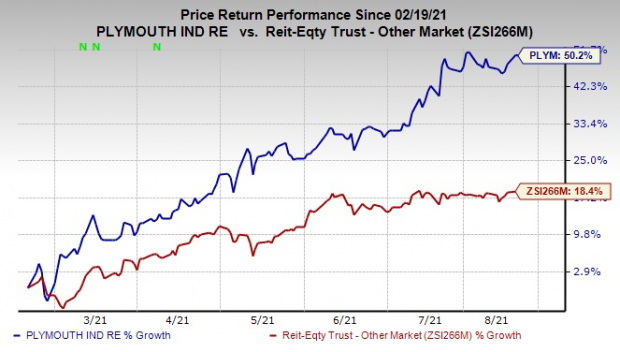 Image Source: Zacks Investment Research Stocks to Consider
CubeSmart's (CUBE Quick QuoteCUBE ) FFO per share estimate for the current year have moved up 3.1% to $1.98 in the past week. The company currently carries a Zacks Rank of 2 (Buy). You can see the complete list of today's Zacks #1 Rank (Strong Buy) stocks here .
Extra Space Storage Inc's (EXR Quick QuoteEXR ) Zacks Consensus Estimate for 2021 FFO per share has moved 1.3% north to $6.42 over the past month. The company currently carries a Zacks Rank of 2.
Arbor Realty Trust (ABR Quick QuoteABR ) carries a Zacks Rank of 2, at present. The Zacks Consensus Estimate for the ongoing year's FFO per share has been revised around 38% upward in a week to 44 cents.
Note: Anything related to earnings presented in this write-up represent funds from operations (FFO) — a widely used metric to gauge the performance of REITs.