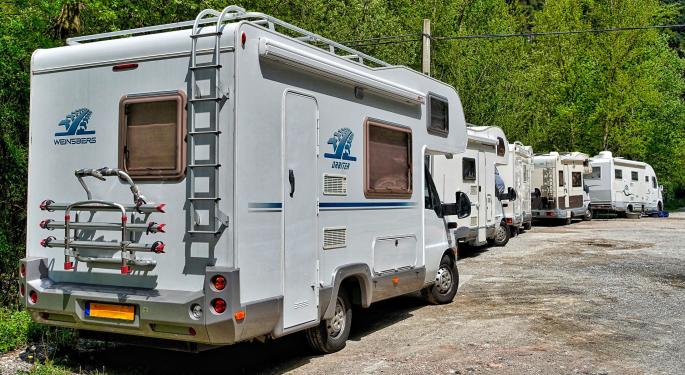 Related CWH 18 Biggest Mid-Day Gainers For Friday A Peek Into The Markets: U.S. Stock Futures Decline Ahead Of Consumer Price Report Related PII Here's What It Would Take For Polaris Shares To Be Attractive At This Price Benzinga's Top Upgrades, Downgrades For July 21, 2017 Polaris Industries Sees Relative Strength Rating Rise To 73 (Investor's Business Daily)
If you're long in insurance or bullish on oil, Hurricane Harvey isn't your friend.
But the deadly and destructive force may prove surprisingly life-giving to certain industries.
One beneficiary? Motorhomes.
"The RV industry likely will be called upon to provide temporary housing in the aftermath of Harvey," Baird Equity Research analyst Craig Kennison wrote in a Tuesday note.
Related Link: Trading A Weakened El Nino
Demand swelled during Hurricanes Katrina and Rita, when Baird recorded sales between 125,000 and 150,000 for combined RV and Emergency Living Units, and Kennison expects the industry to ride a similar surge this season.
The last storm-driven spike was largely sustained by direct sales to the Federal Emergency Management Agency, which took in large quantities of ELUs custom-made by original manufacturers. FEMA also bought from existing dealer inventory marketed for recreational use.
While the total impact of this storm and the size of displacement remain unknown, Kennison estimates incremental sales growth of uncertain magnitude.
Supply could come from any number of industry players, including Winnebago Industries, Inc. (NYSE: WGO), Thor Industries, Inc. (NYSE: THO), Polaris Industries Inc. (NYSE: PII) and Camping World Holdings Inc (NYSE: CWH). However, whether it comes from existing inventory and whether suppliers can meet the demand are yet to be seen.
Latest Ratings for CWH
DateFirmActionFromTo
Aug 2017
KeyBanc
Reinstates
Sector Weight
Overweight
Aug 2017
BMO Capital
Maintains
Outperform
Aug 2017
Credit Suisse
Maintains
Outperform
View More Analyst Ratings for CWH
View the Latest Analyst Ratings