In my previous article, I stated that Home Depot (HD) is a must own stock in this supporting fundamental environment. I also set a price target for this year that has already been breached.
My first target is $170 after which I expect to see $180 in the first half of 2018. This outlook might change when macro indicators either lose or gain further steam. I'm even going so far to say that this is a must own stock. You do not get many companies who are better positioned in the consumer space.
– You Can't Afford Not To Own Home Depot
In this article, I am going to elaborate on this and explain why you can still buy the stock.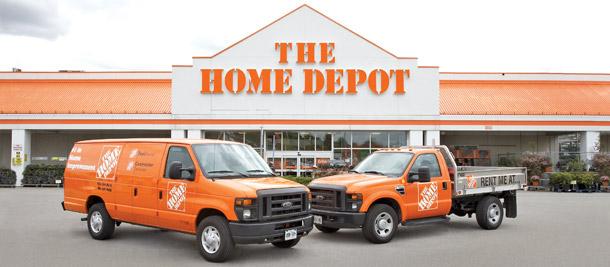 Source: Home Depot Canada
Economic Acceleration Could Not Be Stronger
The very first thing to look at is the general health of the consumer and direction of the economy. For both we are going to use leading indicators and (spoiler alert) both are looking good.
University of Michigan consumer sentiment is at its highest levels since the pre-recession peak after hitting another high in October. It seems that sentiment did manage to break out of the sideways range that started in 2015.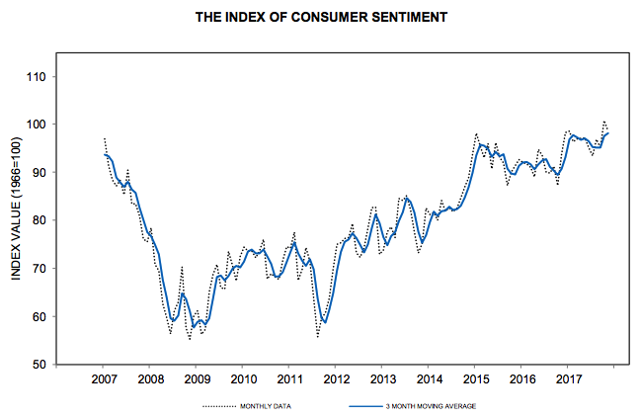 That being said, we see that leading economic sentiment is at record levels as well. The ISM manufacturing index is currently at 58.7 indicating strong industrial production, new orders and stronger economic GDP growth in general.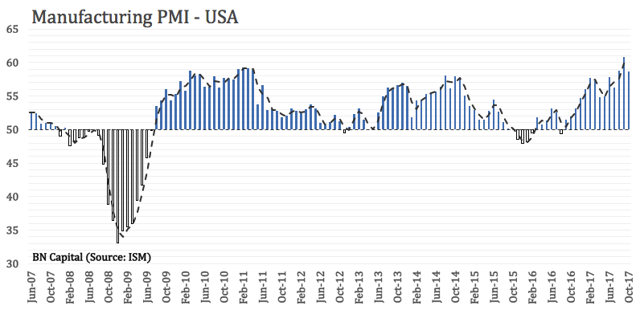 You will see in a minute why this is benefitting Home Depot. But first, let's look at consumer sales in the building materials industry.
Real Sales Are Doing What They Should Do
I've said it before, but it is always important to make clear that it is obvious that Home Depot offers way more products than just building materials, garden equipment and supplies. Nonetheless, this is a very good indicator to monitor spending in the professional and DIY business.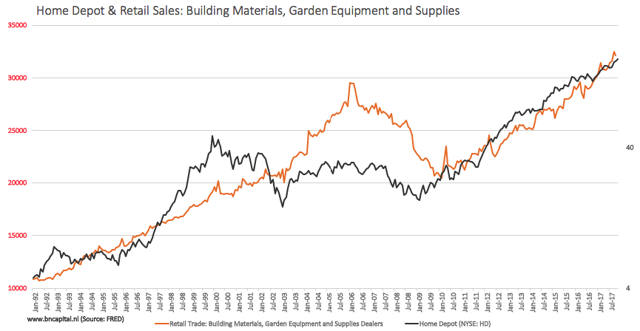 In October, building materials and supplies added 8.77% after soaring 11.4% in September. Not only has the 2005 top been broken, we are going from all-time high to all-time high like a hot tech stock.
If we compare the growth rates of these retail sales and the Home Depot stock price, we see that the two have finally met so to speak. I've used this graph before to point out that Home Depot had some catching up to do and I am happy to see that the stock is finally where it should be.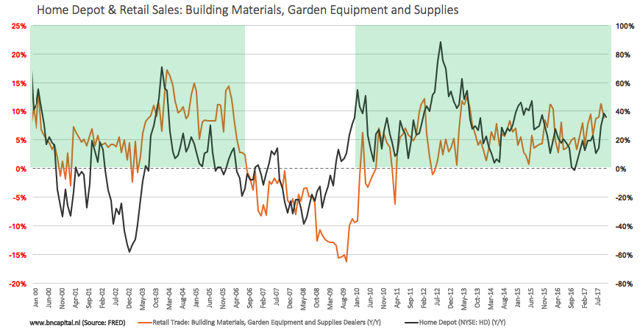 The Consumer Gives, Home Depot Takes
It is one thing to have a strong fundamental environment. Benefitting from it is an entirely different topic. Home Depot has clearly shown that they are able to stay on top of the game.
Third-quarter sales came in at $25 billion which is 8.1% more than one year ago. Comparable sales were just 0.1% shy of the 8% mark which not only shows that the company is able to generate top tier growth after being in business since the 70s but also that nothing goes past Home Depot. Total sales growth equals total retail sales growth in the building materials industry.

Add to this that every Home Depot region saw higher numbers and that pro sales were outperforming DIY sales. This adds to the graphs I showed you at the beginning of this article. The economy is accelerating and contractors are investing massively.
That being said, it gets even better. 5 departments even saw double-digit growth. Those were lumber, appliances, electrical, and indoor garden and tools. Ticket sales over $900, which represent roughly one-fifth of Home Depot's total sales, saw a 12.1% increase.
Online sales were up 19% while representing 6.2% of Home Depot's total sales. Not only are these numbers very impressive, it also shows that Home Depot is successfully executing its online game. This is also visible when you see that 45% of online orders are being picked up at the store while 85% of all items are returned directly to the store. This shows the strong combination of brick and mortar and click and order.
The hurricane showed Home Depot's excellent supply chain. Home Depot was able to supply regions hit by natural disasters while maintaining other stores without any disruptions. This supply chain flexibility is something that gives Home Depot a clear advantage. Both in case of disasters and online sales.
Speaking of hurricanes, Home Depot has benefitted through the sales of plywood, ladders, wet/dry vacs, etc. This has pushed sales up while margins suffered a bit thanks to the lower ticket price of these products. In addition to that, the company has mentioned that only sales benefitted. Operating profits suffered by $51 million.
Takeaway
In my Bank of America (NYSE:BAC) articles, I have called the stock a must have because of its low volatility and ability to perfectly benefit from strong trends within its industry. Home Depot is such a stock – just in a different industry.
The company has perfectly benefited from the strong economic trends of the past and is likely to do so. At least for the next few months according to my indicators. The combination of the right products at the right place at the right price with an increasing emphasis on online sales make this company a must have.
Thank you for reading my article. Please let me know what you think of my thesis in the comment section below. Your input is appreciated!
Disclosure: I am/we are long HD.
I wrote this article myself, and it expresses my own opinions. I am not receiving compensation for it (other than from Seeking Alpha). I have no business relationship with any company whose stock is mentioned in this article.
Additional disclosure: This article serves the sole purpose of adding value to the research process. Always take care of your own risk management and asset allocation.
About this article:ExpandAuthor payment: $35 + $0.01/page view. Authors of PRO articles receive a minimum guaranteed payment of $150-500.Tagged: Investing Ideas, Long Ideas, Services, Home Improvement StoresWant to share your opinion on this article? Add a comment.Disagree with this article? Submit your own.To report a factual error in this article, click here