President Trump's stance on health care and tough talk on bringing down the price of drugs is continuing to weigh on pharma stocks across the board.
Today I want to focus primarily on Gilead Sciences Inc. (NASDAQ:GILD), a solid company that is near its 3-year low and firmly stuck in bear-market territory.
Is it Time to Buy at $66?
That is the million dollar question isn't' it? Timing is everything when it comes to buying stocks; just because a stock looks cheap doesn't mean it can't get cheaper.
I bought Gilead last November on the plunge in the low $70s and traded out of near $80. That was one trade I am glad I cashed in on as the stock is down $14 a share in the last four months.
Here is what I saw in the charts, why I sold and why I still believe it can and will go lower.
A look at the charts.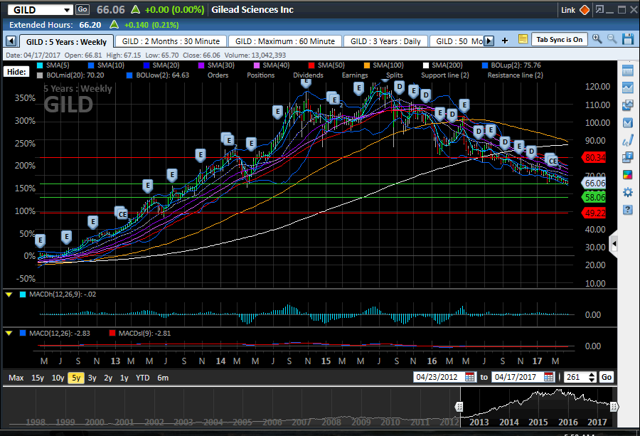 As you can see from the weekly chart above, Gilead is firmly stuck in a downtrend and in the process of testing the last mini capitulation moment that occurred in February with the stock testing the $65.35 level.
Technicals matter, of that there is no doubt; what I saw last November when looking at a longer term chart was the possibility of a steep drop to the $50 level which was enough to scare me out of the stock.
To survive in this business one must face the possibility of being wrong on a trade and understanding the worst case scenarios.
Declining Earnings
Gilead has challenging comparables coming and the market does not appreciate declining profits. In the year ago quarter the company earned $2.53 a share which was an $0.11 miss. This quarter's forecast according to 22 analysts is for a low of $2.08 to a high of $2.47 with the mean coming in at $2.28 per share.
The company is set to report earnings on May 2, the market will be watching closely. Earnings of $2.25 a share would represent a decline of nearly 10% qoq; is this priced into the stock? Bulls would argue yes, bears may disagree.
Gilead trading at a crucial price point according to the charts.
If Gilead cannot hold the $65.35 level and bounce on volume then investors can expect more pain to the downside with a quick test of the $60 level.
Behavioral Finance rules the day
I am fascinated by behavioral finance and it is one of the reasons why I am very often a contrarian in the markets. Let me be clear to readers, I like Gilead here, however it does not matter what I think; the markets will decide where this stock will trade over the next month and in my opinion it will likely have very little do with value or fundamentals.
Bear market shakeouts usually take much longer than many bulls realize, the last two weeks before an earnings release can be a very a tricky situation. I see volatility both ways as the bulls and the bears battle out this next earnings set up.
Dividend currently yielding 3.1%
Gilead's current $2.08 dividend provides a decent yield of 3.1% but that is hardly a reason to own a falling stock. I see strong support for the stock when it yields a sustainable dividend of 4.1%. That equates to a stock price around $50, investors looking for a fat pitch should consider putting this one on the radar for that buy point.
Peer comparison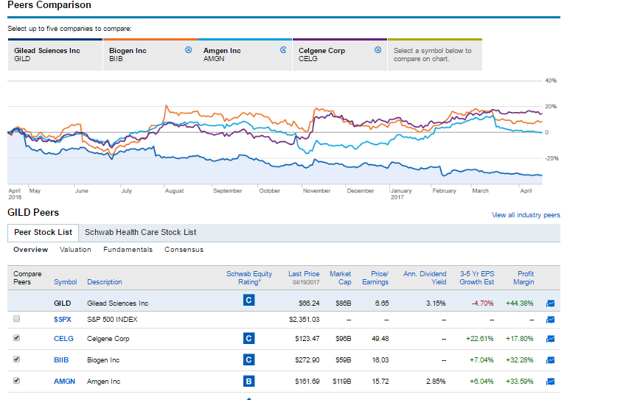 Here is how Gilead stacks up against its peers. Interested investors can see that they have by far the lowest PE multiple at 6.6 compared to Celgene (NASDAQ:CELG) 40 PE, and Biogen (NASDAQ:BIIB) at a 16 PE multiple.
Gilead appears undervalued however the stock is also showing the potential for lower earnings going forward as the street tries to model new drugs vs income stream and revenue declines.
Gilead's guidance for its Hepatitis C virus (HCV) has been the main drag on the stock as the company forecasts a decline in product sales from $14.8 billion in 2016 to between $7.5 and $9 billion in 2017, a nearly 45% drop. That is a large amount of lost revenue for a company to digest and the main reason why performance going forward is so important.
This is a tough one to call, as I do my analysis I am feeling like this may be the bottom, however there could be much more uncertainty for drug stocks as political rhetoric is likely to increase around the Government's health care package and the desire by this President to reign in drug prices which he has clearly stated are way to high.
Gilead must perform and replace loss of Revenue or more downside.
May 2nd guidance on the earnings call will likely be a catalyst either up or down as the street waits to see if management can deliver. An earnings miss and lowered guidance could easily send the stock i nto capitulation as weak longs are forced into liquidation on a capitulation trade.
One more chart for a reality check.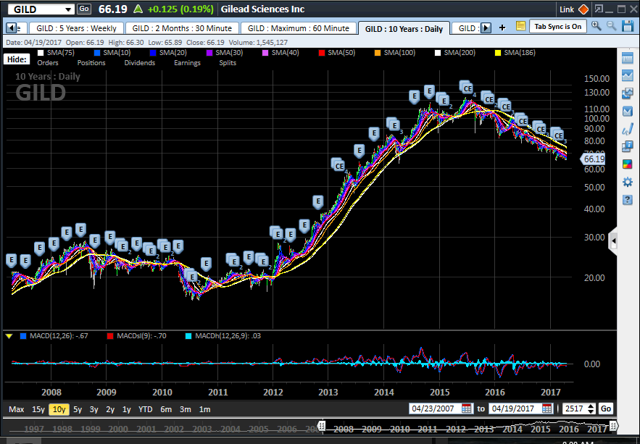 One can see from this simple 10 year daily chart that the stock is in a major downtrend that looks ominous. These type of stock chart patterns are a frightening foreshadowing of what could potentially happen when computer algorithm trading programs turns very bearish.
In 2012 the stock was trading in the $20 range. Biotech stocks went on an epic tear for 3 years, culminating with Gilead Sciences trading to $121 a share in 2015. Fast forward nearly two years and investors that bought the top are holding a near 50% loss. Important note: stocks overshoot both to the upside and the downside.
Short squeeze?
According to shortsqueeze.com, there is less than a 1% short interest in the stock suggesting that the stock is heavily owned by longs, which could be another covert bearish signal, as weak shareholders will likely need to be flushed out before the stock stages a meaningful rally. No short-squeeze potential here.
Conclusion
President Trump's tough talk on drug prices and the government's health care package will likely be bearish for Biopharma stocks this year and the foreseeable future. Raising prices on drugs will not go over well with the public or congress, just take a look at Valeant Pharmaceuticals (NYSE:VRX) and their nightmare scenario.
Gilead's guidance on the sale of its hepatitis drug for a drop of 45% or $5B will be a major drag on revenue going forward. The company will have to perform going forward, the markets are not buying into the turnaround story at present.
Though Gilead appears undervalued, it could drop further on technicals and lower revenue. Bear market stocks have wild swings at the bottom and another 25% downside from this level is a possibility,although not likely.
The markets have a way of testing previous levels of support to the downside decimating weak handed longs.
Gilead is in shakeout mode, the upcoming earnings report on May 2nd. will give more clarity on the business model going forward.
Look for volatility both to the upside and downside as earnings near. I like Gilead from the long side on capitulation around the $50 level on a market wide selloff at some point in the next year as the bear market in biopharma accelerates.
As always do your own research, and know your exit point before making any trade, it can help keep you grounded in times of volatility.
Disclosure: I am/we are long BAC,BP,LYG.
I wrote this article myself, and it expresses my own opinions. I am not receiving compensation for it (other than from Seeking Alpha). I have no business relationship with any company whose stock is mentioned in this article.
About this article:ExpandAuthor payment: $35 + $0.01/page view. Authors of PRO articles receive a minimum guaranteed payment of $150-500. Become a contributor »Tagged: Investing Ideas, Long Ideas, Healthcare, BiotechnologyProblem with this article? Please tell us. Disagree with this article? Submit your own.Follow Giovanni DiMauro and get email alerts