Conduent (CNDT), the business services company recently spun out of Xerox (NYSE:XRX), is too cheap at the current price of $16. Using a sum-of-the-parts valuation looking at fair market value for the company's pieces generates a mid-$20s/share valuation, representing more than 50% upside. CNDT is a classic "multiple ways to win" spin-off situation. The company is looking to exit unprofitable, pre-spin-off legacy contracts and businesses inherited from Xerox which will help grow their already significant free cash flow generation. Even before considering benefits from such business moves, CNDT's current valuation of 7x EBITDA is only in-line with low-value-add call center companies, giving no credit for two special businesses within it that have not yet been discovered by the market.
What makes the Conduent story truly exciting is two gems in their portfolio that if traded standalone would account for more than 2/3rds of the company's current enterprise value: 1) Con duent's Electronic Tolling business, which shares what is essentially a duopoly market with Transcore (unit of Roper, (ROP)) and Kapsch (BZ6 GY), and 2) BenefitWallet, a fast-growing Health Savings Account (NYSE:HSA) provider. Applying market multiples to these two assets implies the remaining Conduent assets trade at a ~50% discount to peers.
CNDT's Electronic Tolling business processes transactions, billing and maintenance for EZ-Pass type toll collection systems. They are the second largest player in the U.S. and are essentially a duopoly with Roper's TransCore unit — the two have a combined 85-90% share of the market with similar EBITDA margins (greater than 20%). This business is structurally different than core Conduent, which has EBITDA margins of ~10%. Conduent's tolling business is underpinned by intellectual property that was developed to allow the company to sync up disparate tolling systems employed across a state roads, and also to allow payments across state lines. CNDT's system is fully automated crediting and debiting accounts based on RFID reader technology.
In addition, CNDT has IP related to license plate recognition technology and GPS recognition technology, as well as red light/speeding cameras. The business benefits from the increasing trend toward electronic tolling vs. cash tolling. Conservatively assigning a 12x EBITDA multiple to this business (a 25% discount to ROP) results in a valuation of $2.4B, or 45% of Conduent's current enterprise value.
BenefitWallet, a top-five player in the fast growing HSA industry, grew HSA accounts at a 29% CAGR from 2013 to 2016 according to industry research from Devenir. BenefitWallet grew 60% faster than the overall HSA industry, where accounts increased 18% during the same period. Applying an 8x revenue multiple to BenefitWallet's $120mm in estimated revenue (a 25% discount to its closest HSA comparable HealthEquity (HQY) which trades at 10.5x revenue), results in a ~$1B standalone value, nearly 20% of CNDT's current enterprise value.
Interestingly, there is even more upside to the BenefitWallet valuation which could result from the company pursuing a relatively straightforward regulatory approval from the Treasury Department and result in a higher multiple for the business. BenefitWallet, unlike HealthEquity, is not eligible to collect float income on the $2.1B of deposits held in customer HSA accounts. The required Treasury Department certification to become a "non-bank custodian" and collect this income would take ~24 months from filing the application.
Once approved, BenefitWallet's revenue would increase from $120mm to ~$140mm, and should result in a multiple closer to that of HQY. Another way of thinking about the value of BenefitWallet is on a per account basis. HQY is valued at ~$1K/account. This per account valuation applied to BenefitWallet's 1.8mm accounts would result in a $1.8B valuation, or 33% of CNDT's enterprise value.
Combining the $2.4B for the Electronic Tolling business and the (lower, more conservative ) $1B for BenefitWallet, and subtracting the $3.4B sum from CNDT's current enterprise value implies that the ~$515mm of EBITDA generated from Conduent's remaining business is worth only 3.8x, versus even low quality business outsourcing peers that trade above 7x EBITDA. Assigning a ~6.5x multiple to the remaining business would result in a price for Conduent of $24/share, 50% above the current $16. Including the benefit of EBITDA improvements that will be achieved by exiting unprofitable legacy contracts results in an additional $1/share of value, arriving at a $26/share target price.
The market is essentially assigning no credit for Conduent's two crown jewels, mostly because CNDT is a newly publicly traded company and has thus far provided scant details around these businesses to the investment community. This should change, however, as the company has a shareholder base that expects results (Carl Icahn owns 9.5% of the company and controls 3 of 9 board seats), and a management team and board that have pledged to unlock value. Actions including spinning off BenefitWallet and/or the Electronic Tolling business to shareholders cannot be ruled out in order to crystallize their inherent value for shareholders.
Taking a step back, it is easy to see how things could have gotten lost in the shuffle. Conduent operates a portfolio of hundreds of business-process functions such as call center outsourcing, HR services and transaction processing for both Commercial and Government clients within their "Commercial" and "Public" business segments. The compan y is almost exclusively comprised of Affiliated Computer Systems (ACS), which XRX bought in September 2009 for $6.4bn in cash and stock. ACS' Commerical segment, comprising ~50% of core EBITDA, was mismanaged within Xerox, who managed the business primarily for growth, with few risk mitigants or guardrails built around the contracting process. This led to a portfolio of increasingly mediocre return-on-invested-capital commercial accounts.
The hoped-for synergies also never materialized, creating the opportunity for Icahn to get involved and ultimately persuade XRX CEO Ursula Burns in 2016 to undo the ACS deal and spin off CNDT. Conduent's new CEO, Ashok Vemuri, appointed in July 2016, has promised investors that he can turn around the Commercial segment by terminating unprofitable contracts inherited from Xerox, and eliminating legacy costs. CNDT's Commercial segment EBITDA margins are only 8%, in contrast to commercial outsourcing peers Convergys, Teletech and Sykes at ~13% EBITDA margins, demonstrating just how much cost can be trimmed from this business.
In contrast to its underperforming Commerical segment, Conduent's Public segment (excluding the Electronic Tolling business described above) accounts for the remaining 50% of core EBITDA, has retained its industry-leading EBITDA margins. The Public segment margins of ~15% are ~500 bps higher than government services competitors Booz Allen Hamilton, Leidos, SAIC and CSRA, at an average of ~10%. This premium to the peers reflects CNDT's success in signing long term contracts structured with a per-transaction focus rather than the cost-plus contracting more typical in the industry. This is largely a result of CNDT's historical focus on leveraging its technology in a "platform-as-a-service" model vs. the peers' labor-based model.
CEO Ashok Vemuri is a proven value-creator, having previously led iGate Corp leading up to the company's acquisition in 2015 by Capgemini. Prior to that, he was a business head for many years at Indian outsourcer Infosys Ltd. His $5mm incentiv e stock compensation dwarfs his $1mm annual salary, excluding potential a cash bonus. Management has guided to $210mm of gross cost reductions in '17E and an additional $270mm in '18E, a total of $480mm of cost savings.
Management has also guided to 5-6% EBITDA growth in '17E and >10% growth in '18E, implying that EBITDA of $635mm in 2016 will increase to more than $735mm by 2018. This $100mm increase in EBITDA is seemingly very conservative as it implies that the vast majority of the $480mm cost savings will be offset by $380mm of business reinvestments. See the CNDT IR presentation here for additional details.
Management also recently announced a portfolio streamlining review to determine which businesses they will keep and which they will exit. This review will be concluded by the end of the summer, and could potentially result in some form of process to highlight CNDT's higher-value businesses. Below is Cardo's sum-of-the-parts analysis for CNDT: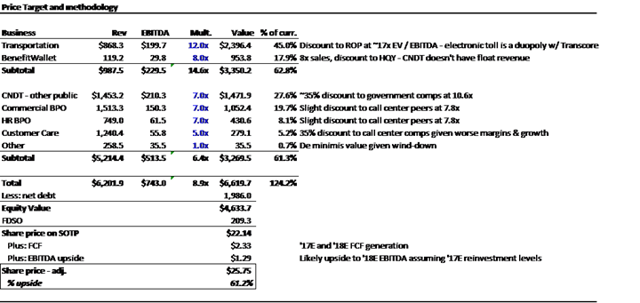 In summary, CNDT has all the ingredients that make for a great returning investment: a misunderstood spin-off with hidden crown jewel assets and an activist shareholder that has the board representation to ensure that value gets unlocked. This along with a proven CEO that can vastly improve a business that was mismanaged by the previous corporate parent. Investors should be well served by coming along for the ride.
Disclaimer: Cardo Capital Management ("Cardo") is an investment advisor based in New York, NY. Cardo provides investment advisory services to its proprietary investment accounts (the "Cardo Fund").
This disclaimer is issued in connection with the below investment memo (the "Memo"). The Memo is for informational purposes only and it does not have regard to the specific investment objective, financial situation, suitability or particular need of any specific person who may receive the Memo, and should not be taken as advice on the merits of any investm ent decision. The views expressed in the Memo represent the opinions of Cardo, and are based on publicly available information and Cardo's proprietary analysis. Certain financial information and data used in the Memo have been derived or obtained from filings made with the Securities and Exchange Commission ("SEC") by the issuer or other companies that Cardo considers comparable. Cardo has not sought or obtained consent from any third party to use any statements or information indicated in the Memo. Any such statements or information should not be viewed as indicating the support of such third party for the views expressed. Information contained in the Memo is believed to be accurate and derived from sources which Cardo believes to be reliable; however, Cardo disclaims any and all liability as to the completeness or accuracy of the information and for any omissions of material facts. Cardo undertakes no obligation to correct, update or revise the Memo or to otherwise provide any additional materials. The Memo may contain forward-looking statements which reflect Cardo's views with respect to, among other things, future events and financial performance. Forward-looking statements are subject to various risks and uncertainties and assumptions. If one or more of the risks or uncertainties materialize, or if Cardo's underlying assumptions prove to be incorrect, the actual results may vary materially from outcomes indicated by these statements. Accordingly, forward-looking statements should not be regarded as a representation by Cardo that the future plans, estimates or expectations contemplated will ever be achieved. The securities or investment ideas listed are not presented in order to suggest or show profitability of any or all transactions. There should be no assumption that any specific security (or securities) identified and described in the Memo were or will be profitable. Cardo may change its views or its investment positions described in th e Memo at any time as it deems appropriate. Cardo may buy or sell or otherwise change the form or substance of any of its investments in any manner permitted by law and expressly disclaims any obligation to notify the market, a recipient of the Memo or any other party of any such changes. Under no circumstances is the Memo to be used or considered as an offer to sell or a solicitation of an offer to buy any security, nor does the Memo constitute either an advertisement or offer to sell or a solicitation of an offer to buy any interest the Card Fund. Any such offer would only be made at the time a qualified investor receives the appropriate confidential offering documents of Cardo. Cardo's investment accounts are speculative and involves substantial risk, including the risk of losing all or substantially all of such investment.
Disclosure: I am/we are long CNDT.
I wrote this article myself, and it expresses my own opinions. I am not receiving compensation for it. I have no business relationship with any company whose stock is mentioned in this article.
About this article:ExpandTagged: Investing Ideas, Long IdeasWant to share your opinion on this article? Add a comment.Disagree with this article? Submit your own.To report a factual error in this article, click here