Shares of Array BioPharma (ARRY) have risen by over 25% since my initial write-up in late August in which we noted that data presented at ESMO would be an important catalyst. Shares are trading slightly green since my update piece published shortly after the presentation and appear to be basing around the $11 level.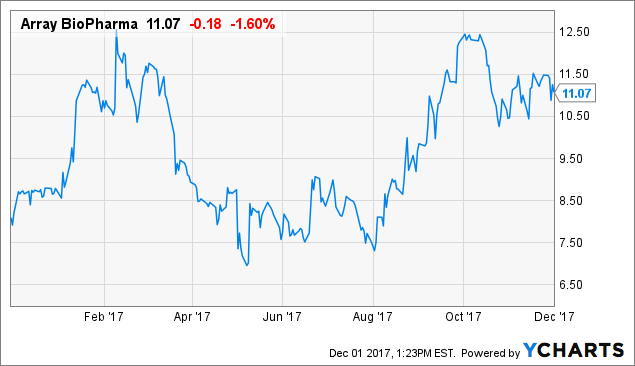 ARRY data by YCharts
For readers newer to the story, the crux of the investment thesis rested on a compelling rationale for the approval of the combination of binimetinib and encorafenib for the treatment of patients with BRAF-mutant advanced, unresectable or metastatic melanoma, supported by strong data from the pivotal COLUMBUS trial. Large market opportunities were being targeted, an example being the global melanoma market for MEK/BRAF inhibitors of over $1 billion. Additionally, I noted the company had a vast pipeline and could advantageously monetize other assets, just as had occurred with its Amgen (NASDAQ:AMGN) deal to discover and develop drugs for autoimmune disorders with the larger company taking care of clinical development. I also referred to positive prior pacts including collaborations with Merck (NYSE:MRK) and Bristol-Myers Squibb (NYSE:BMY) along with monetization of rights in Japan and South Korea.
In the last update piece, I touched on safety results and initial clinical activity from the safety lead-in of the phase 3 BEACON CRC trial, examining the combination of binimetinib, encorafenib, and Erbitux in patients with BRAF-mutant colorectal cancer whose disease progressed after one or two prior regimens in the metastatic setting. The indication is a very difficult-to-treat subtype of colorectal cancer that occurs in 10% to 15% of CRC patients.
Decent tolerability, along with an overall response rate that exceeded expectations (41% versus ORR of 22% observed in a mid-stage trial of encorafenib plus cetuximab), was very encouraging. This impressive showing which was a leap beyond the current standard of care led me to say that approval was a strong possibility (primary completion date July 2019). Keep in mind that there are 135,000 new cases of colorectal cancer each year in the United States, with BRAF-V600E mutations accounting for over 95% of all BRAF mutations in CRC. ORR in patients with this mutation (n=17) who received only one prior therapy was 59%, with 27 of 28 patients demonstrating tumor regression.
As for results from the second part of the phase 3 COLUMBUS study, which evaluated the combination of binimetinib and encorafenib in patients with BRAF-mutant advanced, unresectable or metastatic melanoma, median PFS for patients treated with the combination was 12.9 months as compared to 9.2 months for those treated with single agent encorafenib. As stated before, the company had already submitted two NDAs to the FDA supporting the use of binimetinib 45 mg twice daily and encorafenib 450 mg once daily for the treatment of patients with BRAF-mutant advanced, unresectable or metastatic melanoma. In terms of market opportunity, there are around 200,000 new cases of melanoma diagnosed globally each year of which half have BRAF mutations.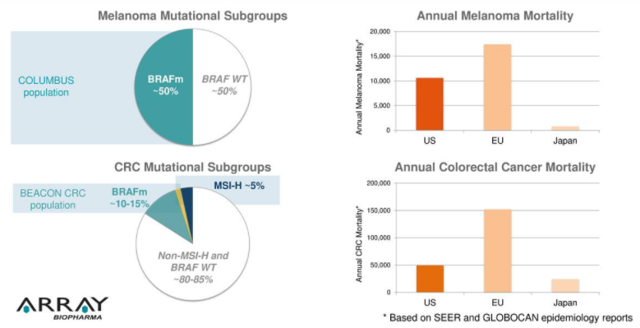 Figure 2: Global advanced metastatic melanoma and colorectal cancer markets (Source: Corporate presentation)
For the first quarter of 2018, the company reported cash and equivalents of $464.3 million, which included total gross proceeds from the September secondary offering of $258.8 million. Research and development expenses rose slightly to $41.4 million while net loss came in at $38 million.
As for near- to medium-term catalysts for upside, the main one at this point is its PDUFA date on June 30th for the combination of binimetinib and encorafenib in BRAF-mutant advanced, unresectable or metastatic melanoma. Regulatory updates regarding its Marketing Authorization Application in Europe and possible approval could also drive upside. Also in 2018 additional safety lead-in data presentations (BEACON-CRC) are expected at scientific meetings.
While less material, its PD-1 partnerships and associated studies should continue to progress throughout the year. Updates in 2018 regarding ARRY-382, a highly selective oral inhibitor of the CSF1R kinase, could also drive additional upside.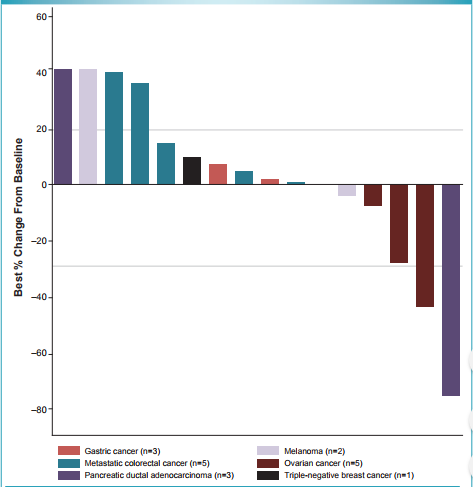 Figure 3: Best percentage change from baseline (Source: SITC poster)
In mid-November initial results from a phase 1b dose-escalation study in combination with Keytruda in patients with advanced solid tumors was announced. The recommended phase 2 dose of 300 mg was chosen for ARRY-382 in combination with 2 mg/kg of Keytruda given intravenously every three weeks. Of note in the phase 1b portion, two patients (11%) were observed to have a partial response, one at the 200 mg dose (stage II pancreatic ductal adenocarcinoma) and the other at the 300 mg dose (stage IV ovarian cancer with liver metastasis). It's an encouraging sign that phase 2 cohorts in melanoma and NSCLC patients are enrolling patients and that as a result of promising data a new cohort of pancreatic cancer patients will be open.
Array BioPharma is a Buy.
Readers who have done their due diligence and are interested in the story should purchase a pilot position in the near term. Due to the strength of data I suggest holding a decent-sized partial position through regulatory catalysts. The stock could be more appropriate for conservative readers looking for a situation with less downside potential and somewhat derisked assets.
I will be including this one on the ROTY Contenders List to keep a closer eye on it.
Risks to thesis include disappointing data for pivotal and early stage trials, clinical setbacks and dilution in late 2018 and beyond. Regulatory risk and competition with other approved BRAF/MEK inhibitors are also a key concern. While it would appear it has a strong liquidity position, the company has retained commercialization rights to the United States and will require significant resources for launching its clinical candidates if approved. Due to unmet needs in the indications being targeted and promising data, I am optimistic about market penetration and payer support while acknowledging the possibility of a slow or rocky start as a risk factor.
Author's note: My goal is to bring to readers' attention undervalued stocks with catalysts that could propel shares higher, as well as provide a fresh perspective on stocks you may already be aware of. I also touch on planning trades and risk management, as those are two areas I feel are often neglected. If you found value in the above article, consider clicking the orange "Follow" button and getting email alerts to receive my latest content. My sincere appreciation for readers who add value and join the discussion in the comments section, as well as those who share my work with others who could benefit from it.
Disclaimer: Commentary presented is not individualized investment advice. Opinions offered here are not personalized recommendations. Readers are expected to do their own due diligence or consult an investment professional if needed prior to making trades. Strategies discussed should not be mistaken for recommendations, and past performance may not be indicative of future results. Although I do my best to present factual research, I do not in any way guarantee the accuracy of the information I post. Investing in common stock can result in partial or total loss of capital. In other words, readers are expected to (and encouraged) form their own trading plan, do their own research and take responsibility for their own actions. If they are not able or willing to do so, better to buy index funds or find a thoroughly vetted fee-only financial advisor to handle your account. I am in a collaborative relationship with The Biotech Forum/Bret Jensen.
Disclosure: I/we have no positions in any stocks mentioned, and no plans to initiate any positions within the next 72 hours.
I wrote this article myself, and it expresses my own opinions. I am not receiving compensation for it (other than from Seeking Alpha). I have no business relationship with any company whose stock is mentioned in this article.
About this article:ExpandAuthor payment: $35 + $0.01/page view. Authors of PRO articles receive a minimum guaranteed payment of $150-500.Tagged: Investing Ideas, Long Ideas, Services, Research ServicesWant to share your opinion on this article? Add a comment.Disagree with this article? Submit your own.To report a factual error in this article, click here