After reporting another expectations-beating quarter of revenue and earnings growth along with raised guidance (causing its share price to surge over 20% in just two months since my initial buy call on the company), Applied Materials (AMAT) still offers investors considerable value.
AMAT's R&D prowess continues to fuel rapid growth as the company benefits from strong industry trends and increasing market share. By leveraging its superior resources and years of compounded intellectual property, AMAT continued to experience growth in excess of its industry, particularly in displays and adjacent markets (up 50% year over year) while the core semiconductor business and Applied Global Services continued robust growth as well (+14% and +20% respectively). Changes in mobile and screen technology have been the primary drivers of the incredible growth experienced in this sector and look primed to continue doing so. As the technology and manufacturing required for displays on consumer products like large screen TVs and Mobile devices become increasingly complex, AMAT's economies of scale and superior R&D capabilities and reputation put it in a strong position to capitalize and capture further market share. CEO Gary Dickerson noted this during the latest earnings call:
There is huge demand for new display technology, while … average screen sizes for both TVs and mobile devices are growing considerably.
The semiconductor business looks primed to continue its solid growth as well, driven by tailwinds from AI and the general boom in tech R&D and manufacturing (IoT, big data, automotive, mobile, etc.).
Meanwhile, management has been taking on bears by making the case that – thanks to transformational industries such as AI and big data – AMAT has broken out of its past cyclical pattern and is looking towards straight line growth for the foreseeable future. Mr. Dickerson recently stated:
The future of competition is going to change … A.I. and big data are transforming major industries. We see this in retail today, health care, transportation, many, many, many different areas. And at the foundation of that technology is Applied Materials with materials innovation.
In addition to the boom in these increasingly influential fields, a quick look at the company's books serves to support that momentum is still building behind the AMAT growth train: the company's backlog grew 32% year over year to an incredible $6.03 billion. Also, to address concerns that capacity was overbuilt, management noted in the conference call that its clients were maintaining investment discipline.
Additionally, the business has never looked healthier: margins are up year over year, the balance sheet remains pristine, and the company is generating incredible amounts of cash. The company's recent 8-K shows that operating margins have grown by over 400 basis points year over year, the company's cash reserves have swelled to over $5 billion, assets remain nearly twice the size of liabilities as the NCAV remains strongly positive, and the company generates cash at a rate of 25% of revenue.
Though the company's international operational setup keeps much of their profits stored overseas, tax reform could open up the opportunity for the company to increase its dividend payout significantly. Management alluded to this possibility at the latest conference call:
As you take a look at the tax structure and the proportion of cash that gets generated overseas versus onshore, there is a structural impediment to us being more aggressive from a dividend perspective in the near-term … we're spending a lot of time discussing this and we're watching tax policy out of Washington very closely.
In the meantime, the company has been creating significant value for shareholders via buybacks. In FY 2017 alone, the company used $1.2 billion to repurchase 28 million shares of common stock at an average price of $42.08 (creating over 35% in return on investment for shareholders). One of the amazing things about AMAT is that it is able to maintain its R&D prowess, grow market share, and build up a large cash pile, while still returning 82% of excess cash to shareholders over the past 5 years (89% over the past three years) and it appears that the company has no plans of slowing down its shareholder returns:
We're going to continue to return cash to shareholders — CEO at the latest earnings call
Investor Takeaway:
Right now AMAT looks like the perfect investment: rapid growth in revenue, EPS, market share, and margins, a pristine balance sheet, an expanding valuation multiple, generous and prudent shareholder returns, and a long growth runway in numerous cutting-edge tech industries. With the stock up nearly 80% YTD, is it too late to climb on board?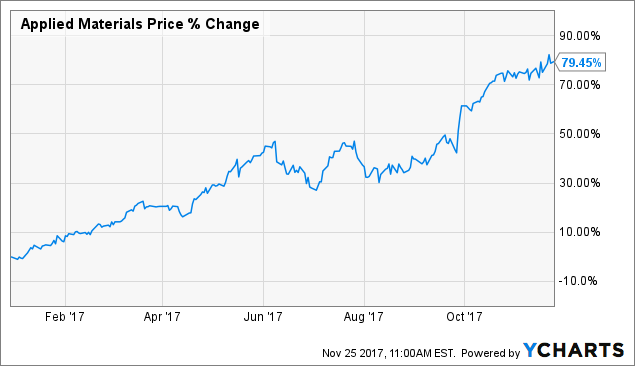 AMAT data by YCharts
Analysts don't seem to think so, placing a consensus buy rating on the stock and giving it an average price target of $68.24. Given its aggressive buybacks and growth momentum, a very conservative assumption is 15% annual EPS growth over the next five years, with a terminal growth rate of 4% thereafter. This yields a baseline return of 13.5% annually:

Source
AMAT also trades at a discount to the broader market, despite its rapid growth:
| | | | |
| --- | --- | --- | --- |
| | AMAT | S&P 500 | AMAT 5 Year Average |
| P/E | 18.25 | 22.05 | 56.71 |
Add to this conservative valuation its strong balance sheet, moat, dividend growth potential, and stock momentum (repeated earnings beats and upward moving analyst estimates), AMAT is clearly still a buy for GARP investors and a speculative buy for income investors.
Disclosure: I am/we are long AMAT.
I wrote this article myself, and it expresses my own opinions. I am not receiving compensation for it (other than from Seeking Alpha). I have no business relationship with any company whose stock is mentioned in this article.
About this article:ExpandAuthor payment: $35 + $0.01/page view. Authors of PRO articles receive a minimum guaranteed payment of $150-500.Tagged: Investing Ideas, Long Ideas, Technology, Semiconductor Equipment & MaterialsWant to share your opinion on this article? Add a comment.Disagree with this article? Submit your own.To report a factual error in this article, click here