Aurinia (NASDAQ:AUPH) is a clinical stage biopharmaceutical company focused on developing and commercializing therapies in disease areas of high unmet medical need. We are currently developing voclosporin, an investigational drug, for the treatment of lupus nephritis (LN), focal segmental glomerularsclerosis and minimal change disease (MCD). Additionally, we are advancing voclosporin ophthalmic solution (VOS), a topic formulation, for the treatment of dry eye syndrome (NYSEARCA:DES). (here)
Aurinia Pharmaceuticals (AUPH) may very well be quite the investment opportunity. Its only drug, voclosporin, has shown amazing data thus far and is a candidate to become the primary treatment for LN. This would bring in several hundreds of millions of dollars annually. Furthermore, CEO Richard Glickman is all too familiar with Aurinia, voclosporin, and the current gold-standard treatment for LN. He believes very much in voclosporin's prospects. Not only in its ability to impress in clinical trials, but its potential to make Aurinia and its investors rich. Lastly, Aurinia shares trade at a steep discount considering this blockbuster drug is in a phase 3 trial after very convincing phase 2 data.
1. Voclosporin: Don't Get Confused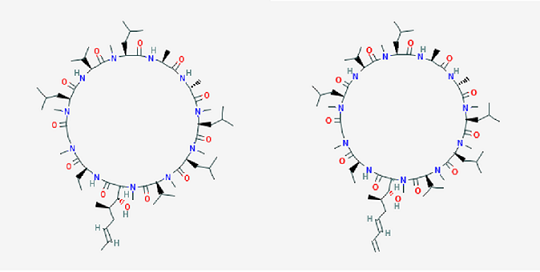 Source: NIH
Created from cyclosporin (pictured on the left), voclosporin (right) was acquired by Aurinia Pharmaceuticals in 2013 when they merged with Isotechnika Pharma Inc. Since then, Aurinia has geared voclosporin toward kidney ailments, primarily lupus nephritis. Just recently did Aurinia extend voclosporin's application towards DES.
Both compounds work by suppressing the immune system and, therefore, are useful in treating some autoimmune diseases. Cyclosporin is FDA approved to treat rheumatoid arthritis, psoriasis, transplant rejection (Sandimmune), and dry eye syndrome (Restasis).
Voclosporin differs from cyclosporin in that its doses can be more stable and, therefore, doesn't require strict monitoring of blood concentrations.
Unfortunately, current treatment of lupus nephritis (LN) is limited to corticosteroids (which act as immunosuppressants) and immunosuppressant drugs like CellCept. However, both lack in effectiveness and aren't actually indicated towards lupus nephritis. Existing treatment of LN yields only 15-20% complete remission rates at six months.
Fortunately, voclosporin appears to be promising in treating LN: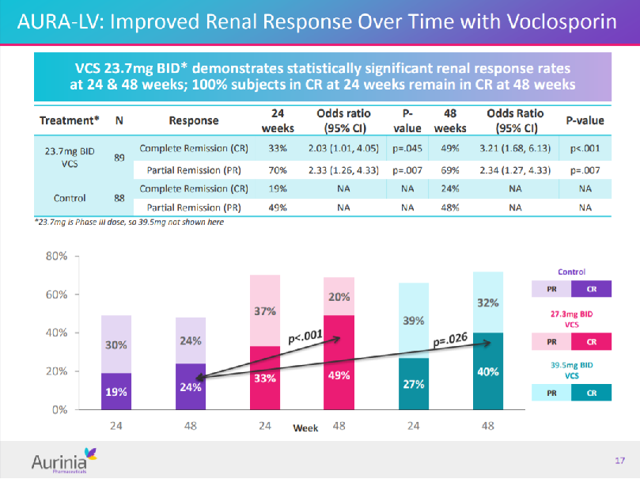 Source: Aurinia Pharmaceuticals Investor Presentation, November 2017
Although the primary endpoint only sought out kidney response, or complete remission (CR), at the end of 24 weeks (p=.045), the results seen at 48 weeks are all the more impressive. Nearly 50% of patients on voclosporin achieved CR (p<.001) after 48 weeks, which is about as statistically significant as it gets.
This is all the more important because the primary endpoint for phase 3 will assess CR at 52 weeks. Phase 3 will recruit 59 more patients than phase 2 had (n=265). Complete results are expected in late 2019.
Aurinia anticipates peak sales for voclosporin indicated for LN to exceed $1 billion worldwide. They also are working to expand voclosporin for two specific etiologies of nephrotic syndrome that make up ~ 50% of that patient population (~ 60,000 patients). A proof of concept will be underway with interim data expected 2H 2018.
Voclosporin will undergo phase 2a studies comparing tolerability (primary endpoint) and effectiveness (secondary endpoints) to Restasis (cyclosporin), the current market leader for DES. The market for DES also exceeds $1 billion and growing. I think it's likely Aurinia will eventually partner on this one.
Aurinia highlights voclosporin's advantages over Restasis: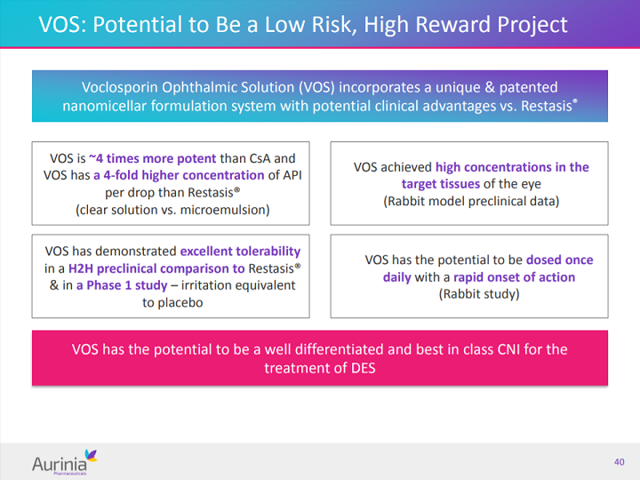 Source: Aurinia Pharmaceuticals Investor Presentation, November 2017
2. CEO Richard Glickman: The Doctor Is In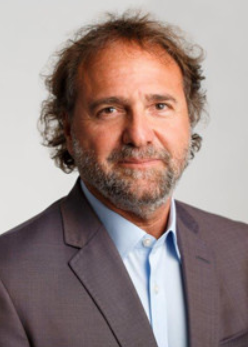 CEO Richard Glickman was involved in the development of the current market leader serving lupus nephritis, CellCept, as the cofounder and CEO of Aspreva Pharmaceuticals. Aspreva was later bought out for nearly $1 billion.
Steven Goldman of Seeking Alpha interviewed Glickman shortly after he became CEO of Aurinia in February 2017. Glickman isn't new to Aurinia. In the very informative interview he states, "I have been involved with Aurinia since its inception and am intimately aware of the value of voclosporin and its importance to patients. I co-founded the company to take advantage of the tremendous lupus nephritis expertise we had assembled at Aspreva and allow them to use their skills and commitment to develop their legacy at Aurinia. Making the decision to take on the role of a full time committed CEO was not easy, but reflects my belief that there is significant untapped value in this company."
3. "Undervalued Shares Here! Get Your Undervalued Shares Here!"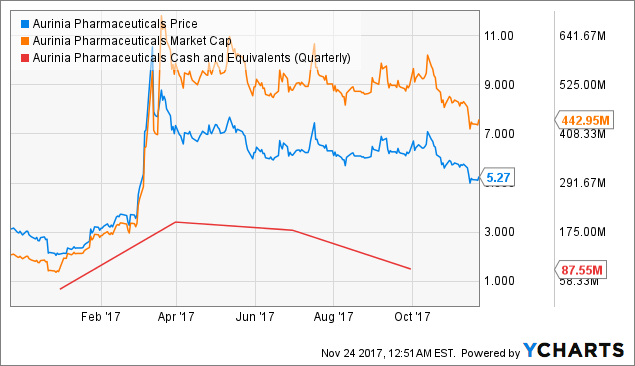 AUPH data by YCharts
I believe Aurinia shares (and market cap) are significantly undervalued considering phase 2 data for voclosporin and its market potential for LN.
Perhaps, this is, in part, due to patent concerns over voclosporin for LN. See Ronald Liu's discussion with Aurinia's COO here. There also are concerns of voclosporin's safety profile. However, adverse events (AE) associated with voclosporin (and AE's not associated with voclosporin, like death) are not historically uncommon of similar medications.
Aurinia has sufficient cash on hand to fund operations into 2020, so dilution within the next year is unlikely.
Risks Phase 3 results for LN may not meet its primary endpoint. In this case, the share price would, undoubtedly, tumble. Voclosporin may not be a viable option for dry eye syndrome. Securing expanding rights to voclosporin, once approved, may be more complicated than management likes to think. Aurinia only has one drug in their pipeline. It's biotech. Anything can happen in biotech.
Disclosure: I am/we are long AUPH.
I wrote this article myself, and it expresses my own opinions. I am not receiving compensation for it (other than from Seeking Alpha). I have no business relationship with any company whose stock is mentioned in this article.
About this article:ExpandAuthor payment: $35 + $0.01/page view. Authors of PRO articles receive a minimum guaranteed payment of $150-500.Tagged: Investing Ideas, Long Ideas, HealthcareWant to share your opinion on this article? Add a comment.Disagree with this article? Submit your own.To report a factual error in this article, click here